People ask me: There are these new high-tech "stem cell creams" on the market. What do you think about them?Here's the scoop on stem cells…Suppose you cut your finger. Your wound is able to heal because other skin cells around the damaged area divide and migrate to seal the wound. Break a leg, and chondrocytes (bone-forming cells) will repair the damage.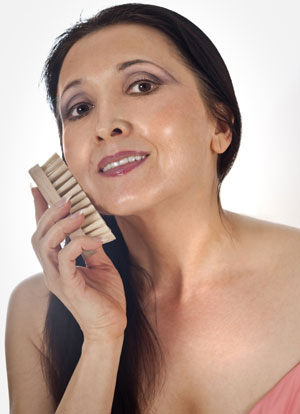 By the way, your liver has the same ability. You can observe similar changes in the epidermal basal layer in response to injury. It is the stem cells that have the ability to divide for an indefinite period and can give rise to a wide variety of specialized cell types. When the need arises, stem cells become activated to migrate from their niche and embark upon their specific mission.
The skin epidermis provides a protective barrier that protects you from harmful microbes and prevents dehydration. The skin's elixir for maintaining tissue homeostasis, regenerating hair, and repairing the epidermis after injury is its complement of stem cells, which reside in adult hair follicles, sebaceous glands, and the epidermis. To perform their functions, these tissues undergo continual rejuvenation so as to effect wound repair in response to injury.
Recently, scientists have begun to reveal the properties of skin stem cells and unravel the mysteries underlying their remarkable capacity to perform these feats. The process is in a dynamic flux—surface cells are continually sloughed off, replaced by inner cells differentiating and moving outward.In the human epidermis, this self-renewing capacity of epidermal stem cells is enormous. The process is quite quick, all things considered: It takes about a month for a basal stem cell to form in the deeper layers and then to differentiate and move out to the skin surface and exit there.
Stem cells are present within the basal layer of the adult epidermis. We don't yet know, actually, whether all those basal cells are stem cells, or whether just some are stem cells. But either way, any damage would stimulate the stem cells. Populations of adult stem cells generate replacements for cells lost due to injury or normal wear and tear. Scientists believe that stem cells reside in a specific area within the basal layer, where they may remain quiescent (undivided) until they are activated by tissue injury.
It all comes back to exfoliation. There is no other way to make your skin to look younger since it is that repeated minimal stress on your outer skin layer which activates the production of new cells.So the question is: How do stem cells in a cream work with your own stem cells? The answer unfortunately is that it is less than clear how—or even whether—they do.
You can try to exfoliate using some fancy cream claimed to "activate your dormant stem cells." But do they? Or can you use a simple brush and simply remove the dead cells. We know that process works—and works well.Some manufacturers use the stem cells derived from exotic plants in their facial creams. Technicians extract tissue from the plant. Then they scratch this cultured plant tissue, as a way of inflicting miniature wounds. This damage stimulates the plant's stem cells to act. This stimulation induces the formation of new stem cells on the wounded surfaces of the plant.
After slow replication and division on the outside of the scratched plant surface, the new cells fashion a large accumulation of colorless cells, known as a callus. The cells composing the callus have been divided into cells that do not carry the specific features of individuated plant cells. This callus is what's used as an ingredient in facial creams.
Other manufacturers claim their creams harness the power of your own stem cells as the answer to fresh, younger-looking skin. In explaining the touted process, they highlight the expression of stem cell markers (specialized proteins that coat the surface of a stem cell and selectively bind to other molecules) in skin tissue, claiming a reduction of wrinkles as a result.Likewise, it's less than clear how—or even whether—this process works. The trouble is that our immune systems will reject added cells, in a process known as graft-versus-host disease, just as the body tends to reject foreign hearts, livers, or kidneys. Injecting stem cells into a patient leads to the same problem plaguing transplant surgery—the rejection of foreign cells by the patient's immune system.
Even if scientists can overcome this problem, they are left with an even greater challenge: trying to ensure that the cells will go where they are supposed to go and do what they are supposed to do without forming cancerous tumors, thereby damaging the very organs they are supposed to repair.In theory, stem cells have great potential for forming the bases of various medical therapies. But in their enthusiasm, many commercial ventures and some scientists have given the public an unrealistic impression of what can actually be achieved.
Topical solutions containing stem cells similarly don't work. That idea is something like pouring gasoline all over your car, hoping it will suck in somewhere and fill your gas tank.
Stem cells have one thing in common with cancer cells: the ability to proliferate indefinitely. This similarity has worried scientists and physicians for some time, because it could mean that using stem cells to treat a disease may result in the seeding of cancers throughout the body.
There is one more issue to consider. Red blood cells, with a life span of only 120 days, have to be replaced daily. In this case, it is the stem cells located in the bone marrow that divide and differentiate into both red and white blood cells, thus replacing them as they wear out.Your blood quality is directly affected by the food you eat. Live blood test analysis proves this point. And long experience demonstrates that raw foods are essential to purifying your blood.
The companies that sell these super expensive "stem cell" creams promise to turn back the clock as much as five years on your skin's aging. The cost? As much as $1500 for a four-week treatment.We in the raw foods community can do much better than that! With a sound raw food diet and daily dry brushing—and without bringing stem cells from the outside—we can use the power of our own bodies' mechanisms for healing and beauty.