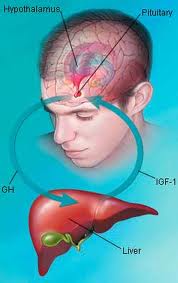 Insulin-Like Growth Factor and Aging
Many bodybuilding websites advise you to combine two hormones—IGF-1 and HGH—in supplement formulas. It's the kind of advice a fair number of bodybuilders seem to go for—anything to give them the extra edge.
But is that a good idea? Let's look at what these hormones are. Throughout life, HGH (human growth hormone) comes from the pituitary gland, whence it's whisked throughout the entire body. The amount of HGH released declines with age. IGF-1 (Insulin-Like Growth Factor) is produced in the liver and works with HGH in an important way. In effect, HGH stimulates the need for growth, stimulating anabolic activity throughout the body, and IGF-1 carries out the growth—especially muscle growth. Indeed, both HGH and IGF-1 prove essential to muscle growth—the bodybuilder's goal.
But there's a catch. Lots of scientific data indicate that high levels of HGH and IGF-1 will decidedly age you.
Lower levels of IGF-1 protect against aging and certain types of cancer. When IGF-1 levels are low, new cell production slows allowing the body to concentrate on repairing existing cells. When IGF-1 levels are high, this signals the body to enter a 'go, go, go' mode, causing cells to grow and age too fast to be repaired. The result: accelerated aging. Read the rest of this entry »