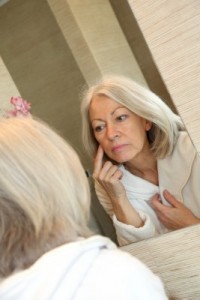 I received this email from a reader:
At age 52, I have been using Copper Peptides for almost one year and added Retin A, two months ago…. I don't believe in store or commercially bought anti-aging products anymore, but find the research and track record of Retin A and the seeming trustworthiness of Dr. Pickart (CP's) hard to resist. Both claim to "remodel" skin, and I wonder whether I'd be missing out, long term, not to use them. What do you think?
Nowadays many women, like my reader above, are reaching for the latest discoveries such as Copper Peptides and Retin-A, two patented products promising unique, unrivaled benefits. Retin A chemically exfoliates, while copper peptides assist in wound healing and recovery. Both promise to "remodel" your skin, and they do—after a fashion. But once you understand the science behind it, you'll see there are easier, cheaper, and healthier ways to do the same job. How do I know? Because I've been doing it for the last fifteen years with great results.
What is Retin A?
Let's take a more careful look. As the product's name suggests, it is a retinoid, a chemical compound derived from Vitamin A, and is only available by prescription. This by itself sends up red flags for me. Read the rest of this entry »