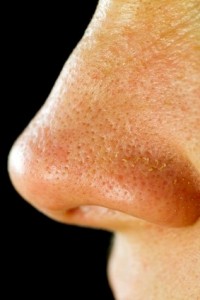 It is a part of the design of your skin that it has small openings on its surface, called pores, leading into sebaceous glands that secrete oil for skin protection and lubrication. Most skin pores are barely noticeable to the naked eye, and we pay them little attention. Except, that is, when we see them staring back at us in the mirror like so many moon craters. In my late thirties, I used to have this very problem. No more.
What Causes Pores to Enlarge?
While it's commonly accepted that pore size is genetically determined, several other factors most likely contribute. Hormone imbalance may play a role in excessive oil production, promoting pore enlargement. As skin ages and loses collagen, pores become larger, continually trapping more and more dead skin cells along with oils, which plug and stretch the pores even more—a vicious circle. Enlarged pores almost always go along with an oily skin problem. The odds of having dilated pores are not in your favor if you struggled with acne as a teenager and attacked the problem with your bare hands. Sun damage to the skin can also factor into pores becoming more visible.
Approaching the Large Pores Problem from Within
The way to a beautiful exterior always starts inside. Before you see perfect facial skin, your liver, stomach, colon, pancreas and other internal organs must experience a state of health. Since you are constantly building and re-building your cells with the help of the foods you consume, diet is the number one player when it comes to addressing any health or cosmetic issue. If you are already on a raw food diet, you're ahead of the game. Make sure you drink fresh, predominantly green juices regularly. Take a look: The skin of frequent juicers is vibrantly alive, healthy looking, and clear. A glass of juice has more potential for your skin healing and rejuvenation than any cosmetic procedure or pharmaceutical product you might be tempted to try. Read the rest of this entry »