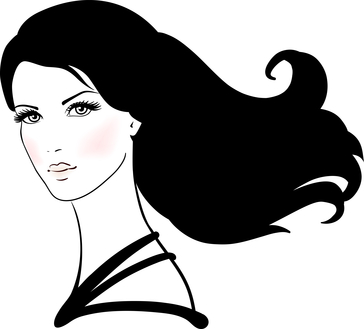 "Desperate"…that's the word that comes up again and again in emails from my readers on the topic of hair:
"…I know you get thousands of letters but PLEASE, PLEASE help me stop losing my hair. I am menopausal and my hair is thinning terribly. What can the raw food diet do for me? Please tell me what food to eat or what supplements to take!"
I know how these readers feel—the panic, the fear, and helplessly watching their hair literally go down the drain. I've been there. You can read my story in my first book, Your Right to Be Beautiful.
Hair Basics. But for now let's start by exploring some hair basics. Hair growth and texture is always sensitive to change, especially to a change in diet. It even responds to life changes. Example: relocation. You move to a new town where the tap water contains different minerals than your body is used to absorbing. Variations in the levels of zinc, magnesium, proteins and fatty acids can all cause hair loss.
Hair grows actively for a time, then rests. At the end of the rest cycle, it falls out, usually having been replaced by new growth. Problems arise when something disrupts this natural order, causing your hair to enter the rest cycle and fall out before new growth is ready to replace it. Hair loss like this is a common reaction to lifestyle variations.
How Diet Affects Your Hair. A change in diet, such as switching to raw, may cause hair loss as the body cleanses itself of old toxins and builds stronger healthier follicles that will eventually transform into healthier, more luxurious hair. And if your system is starting over, your system is altered, and changes take longer and are more obvious. The usual timetable is 6 -12 months before things stabilize and begin to rejuvenate. From this time the hair will begin to improve. But as everyone knows, growing hair takes time.
You will have the best hair possible once your body is free of all toxins. One of the indications that a major detox process is complete is that fasting becomes very easy, producing no unpleasant symptoms. But to get to this kind of hair, you will have to wait until all the hair you grew while on your cooked food diet has been replaced. The quality of your hair will be quite different on a raw food diet. And that old hair will have to leave.
Hair Loss Solutions. We traditionally lose some hair daily without even being conscious of the loss. Only when hair loss goes up 30% or more and hair seems to fill the sink or shower drain does it get our attention. Many people become panicked when this starts to happen. Going into panic mode doesn't help, since the emotional trauma can be as taxing as the dietary change itself.
One of my readers contacted me saying that taking protein powder helped slow down her hair loss. But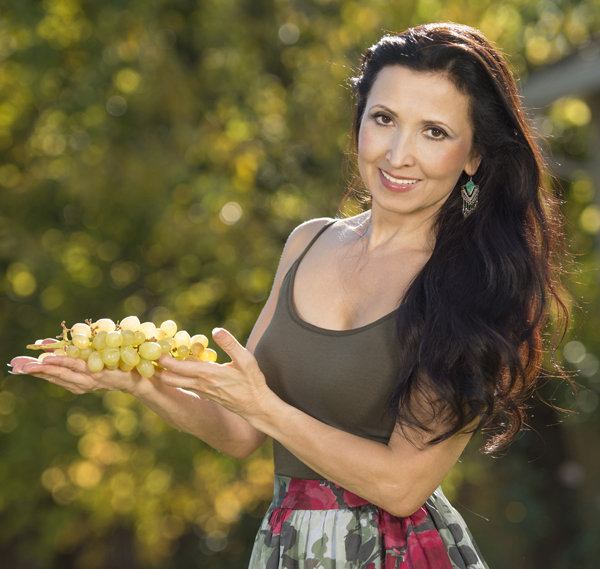 let's consider what exactly is happening here. It's not that we need lots of protein. Extra protein actually slows the detox process, which may explain why consuming extra protein while detoxing will slow the hair loss. I don't consume much protein, getting all of it from the soaked nuts that I eat with my morning juice, and sometimes adding ground up hemp seeds to my raw shakes. And I have the best hair I ever had. Why? Because I'm beyond the detoxification process.
This picture was taken in October 2013 at age 55. This is my sixteenth year on the 100% raw food diet. Even though my hair is genetically very fine, it is thicker and healthier now than it was in any other period of my life.
Medical Conditions that Cause Hair Loss. Some medical conditions can also cause hair loss. These should be considered if your growth pattern doesn't re-establish itself within a normal time. Gastro-intestinal problems, thyroid conditions, and anemia can all cause you to lose your hair. There are also natural forms of baldness that can be attributed to heredity. Alopecia areata is an auto-immune condition, and in its most virulent form causes the loss of all body and facial hair and requires medical attention. See a health profesional to verify whether or not there is a medical condition involved.
Best Raw Foods for Your Hair. For overall hair health, include in your diet: sulfur foods (onions, radishes, hemp seeds, aloe vera)… silicon foods (cucumbers, red peppers, and other shiny-skinned produce)…vitamin A foods (carrots, arugula, papaya)…zinc foods (coconut, nuts and seeds)…vitamin C (citrus fruits)…vitamin E (avocado and olives)…and so on. In short, all raw foods! In general terms, consider that just about every raw plant food offers something good for your body and your hair—even though, for some particular foods, science has yet to map those benefits.
Dietary supplements containing MSM are often used. Silica, calcium and iron are all good for hair growth, because hair is essentially an extension of your blood. But beware! Some supplements, especially those containing high amounts of selenium, have been linked to hair loss.  Healthy blood, in conjunction with a healthy scalp, determines the state of your hair and its rate of growth.
It appears that, in the absence of a true medical condition, people embarking on a raw food lifestyle can anticipate some initial changes in hair growth, especially if they go raw overnight. They can also expect subsequent improvements in their overall hair health if they eat a diet rich in greens, and throw in a solid dose of patience.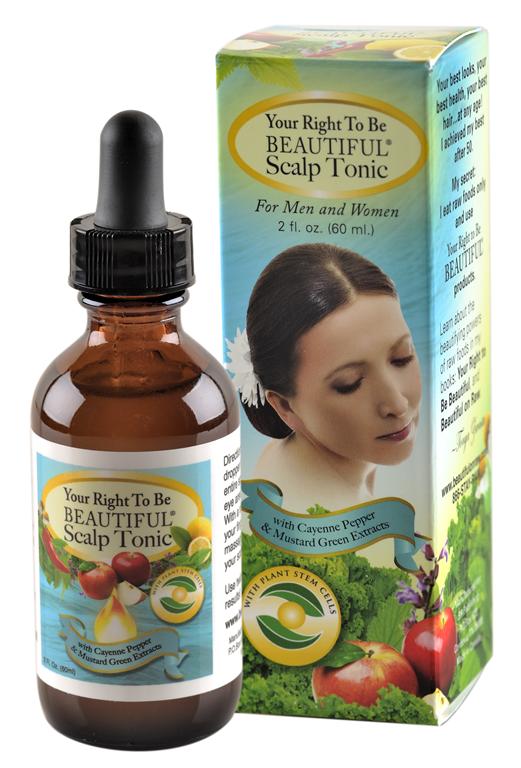 To keep your scalp healthy, your blood has to be able to come close to the follicles. One way to achieve this is by utilizing different scalp stimulating procedures. I have recently introduced a new product, the Scalp Tonic with Cayenne Pepper and Mustard Greens Extracts, the most effective blood circulation stimulants there are!
Stimulating the scalp through massage—either manually or with such health aids such as the Rolling Bed of Pins or the Violet Ray—can also help encourage healthy hair.
To encourage you, here are some positive emails…
"Dear Tonya, I have lots to thank you for—the skin on my face has much improved, thanks to you. And I have new hair growing after using the Rolling Bed of Pins! I am avidly reading your last book…"-C.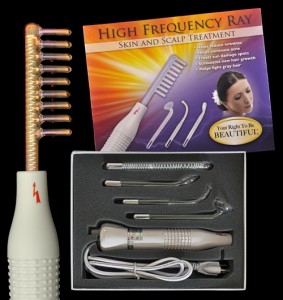 "…I bought the Violet Ray and have been using it for more than two months now. My hair is sooo much thicker. Thanks to raw foods and having used the Rolling Bed of Pins for a year, I laid the ground for Violet Ray. I feel so happy and beautiful now, as my hair is getting back to normal. Hugs and thank you for your persistent work for fruits and greens."-Anita, from Sweden