Blooming Lava Salad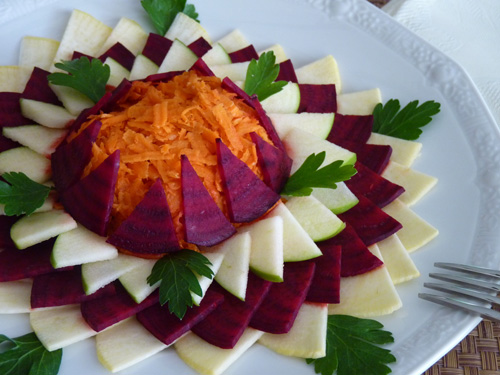 Courtesy of Beautiful on Raw
Published:
Preparation time:
Yield: 2 portions
Recipes with similar ingredients: apple, beetroot, carrot, cucumber, lemon, rutabaga, thyme
More recipes in category Salad
User rating*:
* Hover the stars to rate this recipe
Visually appealing meals bring us more satisfaction and may even prevent us from overeating. Even the most humble ingredients will shine in a layered dish, such as this Blooming Lava Salad.
DIRECTIONS
Ingredients:
½ of a rutabaga, peeled and thinly sliced with a mandolin slicer
½ beet root, peeled and thinly sliced with a mandolin slicer
1 cup carrots, grated
½ of a green apple, thinly sliced
juice of 1 big lemon, divided
½ cup cucumber, peeled
1 tsp. fresh thyme
1/4 tsp. Celtic sea salt, or to taste
1 Tbs. unrefined olive or other oil (optional)
Cut rutabaga slices into quarters, dip into the lemon juice, and lay in a circle around the perimeter of a plate. Mix grated carrots with some lemon juice to prevent browning, and place in the shape of a mound in the middle of the plate. Next, cut sliced beets into quarters, and lay them in a smaller circle, overlapping with the rutabaga slices. Sprinkle cut apple slices with lemon juice, and lay in a yet smaller circle, overlapping with the beets layer, and touching the carrot mound. Add the final layer of beet triangle slices leaning over the carrot mound.  Sprinkle the whole arrangement with lemon juice. For a finishing touch, add a few leaves of parsley. To prepare the dressing, combine cucumber, 4 tsp. lemon juice, thyme, salt and oil in a blender, and blend well. Serve alongside the salad in a separate bowl.