Buckwheat Crisp Breads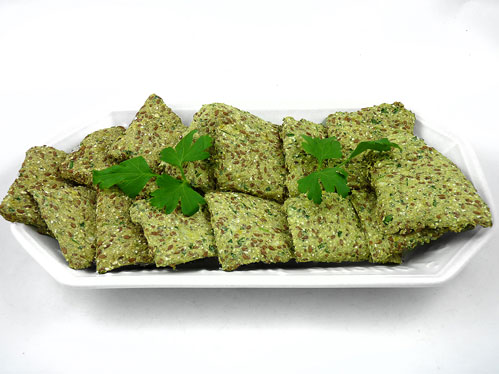 Courtesy of Beautiful on Raw
Published:
Preparation time:
Yield: 4 portions
Recipes with similar ingredients: buckwheat, flax seeds, garlic, parsley, yellow onion
More recipes in category Snack
User rating*:
* Hover the stars to rate this recipe
Here's the way to use up the pulp left over from your morning green juice by using it to prepare crisp breads. Sharing it with the microorganisms in your compost pile is the second best option.
DIRECTIONS
Initial Preparation:
Soak hulled untoasted buckwheat for 15 min., then let it sprout for 24 hrs., rinsing a few times, until tiny little white tails appear on the grains. Soak flax seed in water for about 8 hrs.
Ingredients:
1 cup sprouted buckwheat (see above)
1 cup flax seeds, soaked in 2 cups water for about 8 hours
1 cup leftover pulp from green juice, or any homemade juice that is not overly sweet
1 ½ tsp. Celtic sea salt
3-4 garlic cloves, minced
1 small yellow onion, finely diced
1 bunch parsley, finely diced
2 tsp.  Italian seasoning
Run the buckwheat sprouts through a food processor until mashed. Add flax seeds along with the water, and blend again until mixed in. Keep adding the rest of the ingredients. Adjust the taste, adding more salt or water if necessary, to achieve a good tasting and spreadable mixture. Using a spatula spread the mixture onto Teflex sheets to make a large square approximately ¼ inch thick. Score it with the spatula into crisp breads/cracker-size pieces. When dry, the pieces will break apart at these lines. Dehydrate at 105 degrees  for a few hours until crispy, flipping the breads over halfway through. Store in the fridge.