Cauliflower Carrot Juice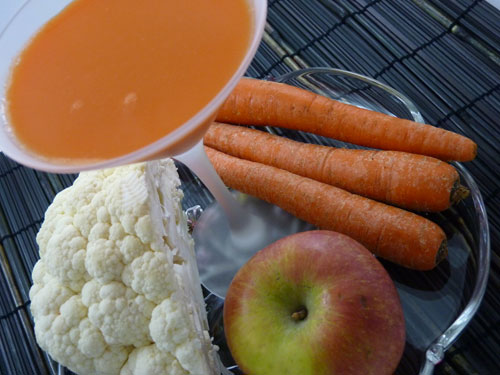 Courtesy of
Published:
Preparation time:
Yield: portions
Recipes with similar ingredients: apple, carrot, cauliflower
More recipes in category Juice
User rating*:
* Hover the stars to rate this recipe
Yes, you can juice cauliflower!  This 3-ingredient juice is an easy way to include a significant amount of this cruciferous vegetable in your diet.
DIRECTIONS
Ingredients:
3 medium size carrots, roughly cut
1/2 medium size cauliflower, stem and leaves included, separated into florets
1 apple
Juice all the ingredients and drink slowly. Note: If you are not using a powerful juicer like the Champion, you may not be able to juice the stem of the cauliflower.