Cauliflower Tabbouleh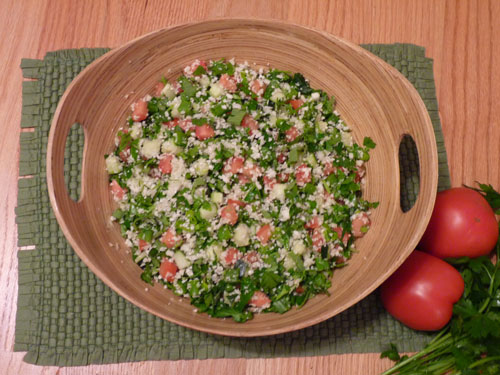 Courtesy of Beautiful On Raw
Published:
Preparation time:
Yield: 6 portions
Recipes with similar ingredients: cauliflower, cucumber, lemon, mint, olive oil, parsley, scallion, tomato
More recipes in category Salad
User rating*:
* Hover the stars to rate this recipe
Printer-friendly version
While traditional tabbouleh is prepared using bulgur wheat, we'll make a lighter version using cauliflower instead.
DIRECTIONS
Ingredients:
6 cups cauliflower
1 big cucumber, chopped
2 cups tomatoes, chopped
2 cups parsley leaves, finely diced
6 Tbsp. fresh mint, finely diced
½ cup scallions, chopped
1/3 cup extra-virgin olive oil
4 Tbsp.  freshly  squeezed  lemon juice
1 tsp. Celtic sea salt, or to taste
Pinch of black pepper (optional)
Using the pulse mode, chop the cauliflower in the food processor until the resulting pieces are small enough to where they resemble rice grains. Transfer to a large salad bowl, add the remaining ingredients, and toss well.