Easy Nori Rolls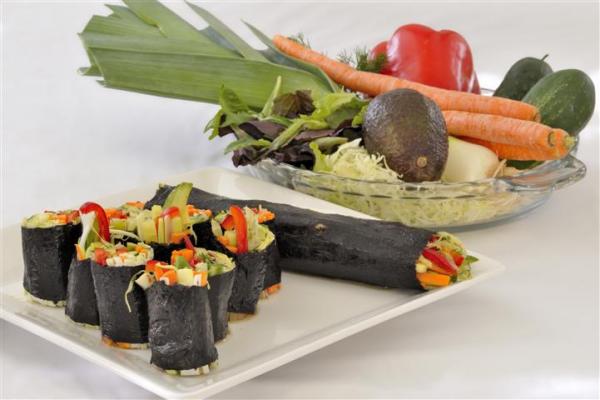 Courtesy of Beautiful on Raw
Published:
Preparation time:
Yield: 3 portions
Recipes with similar ingredients: avocado, carrot, cucumber, green onion, nori, sweet pepper
More recipes in category Main Course
User rating*:
* Hover the stars to rate this recipe
Printer-friendly version
This recipe is adapted from my Beautiful on Raw: unCooked Creations. This easy version of the "sushi" rolls can be made very quickly and doesn't even require a food processor.
DIRECTIONS
Ingredients:
1 medium bell pepper, cut into long thin strips
6 raw nori sheets (sun-dried)
2 large carrots, cut into long thin strips
2 cucumbers, cut into long thin strips (English cucumbers work well for this recipe)
2 avocados, cut into long strips
6 green onions
sea salt to taste
Place a green onion and a thin strip of each of the other ingredients on one end of a nori sheet. Starting with the edge closest to you, using both hands, gently roll each nori into a log. Moisten the outer edge of the nori sheet with water to help seal it. Repeat procedure for all the remaining nori sheets. Cut the rolls into cylinders 1-inch long. Serve. Will keep refrigerated 1–2 days.