Green Summer Pesto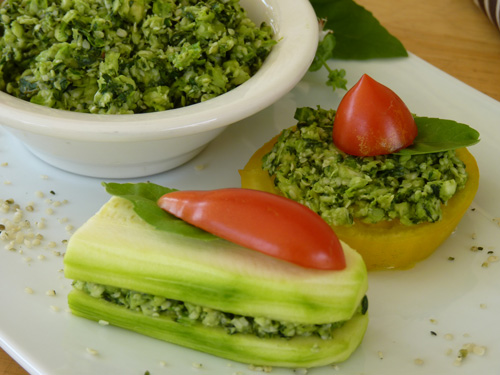 Courtesy of Beautiful on Raw
Published:
Preparation time:
Yield: 2 portions
Recipes with similar ingredients: avocado, basil, Brussels Sprouts, garlic, hemp seeds, lemon
More recipes in category Snack
User rating*:
* Hover the stars to rate this recipe
Hemp Seeds – Nature's perfect food – blend well with vegetables and greens, providing you with protein, essential fats, vitamins, minerals and enzymes, all in one simple and quick recipe.
DIRECTIONS
Ingredients:
1 ½ cup of fresh basil leaves, packed
1 cup Brussels sprouts, chopped
1/3 cup raw shelled hemp seeds
½ avocado, peeled
1 – 1 ½ Tbs. lemon juice
1 garlic clove, peeled and chopped
¼ tsp. Himalayan salt
Combine all ingredients in a food processor, and blend well. Taste and adjust salt and lemon juice, if necessary. Serve with cucumbers, zucchini and tomatoes.