Hearty Winter Muesli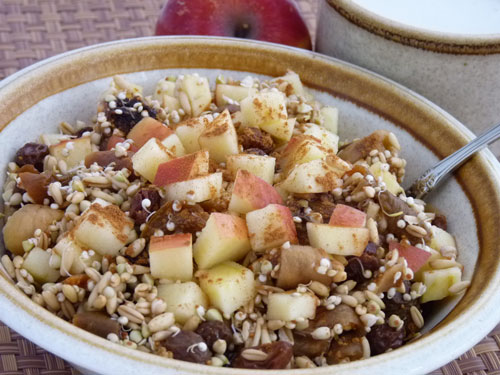 Courtesy of Beautiful on Raw
Published:
Preparation time:
Yield: 4 portions
Recipes with similar ingredients: apple, apricot, cinnamon, oats, quinoa, raisins
More recipes in category Main Course
User rating*:
* Hover the stars to rate this recipe
On the days when you'd like your meal to be a little denser than usual, consider making muesli. Serve it for breakfast, lunch or dinner, and make sure to chew the grains thoroughly for optimum digestion. This is a very flexible recipe, allowing you to substitute grains for nuts or other grains, as well as your choice of dried and fresh fruits.
DIRECTIONS
Ingredients:
½ cup whole oats
½ cup buckwheat groats
½ cup quinoa
½ cup dried apricots
¾ cup raisins
¾ cup dried figs
2-3 fresh apple, cut into pieces
¼ tsp. cinnamon
Soak the grains for 6-8 hours during the day, then drain and sprout overnight. Soak the dried fruit overnight. In the morning drain and cut up the dried fruit and apple into small pieces, place them into a bowl and mix in rinsed sprouted grains. Sprinkle with cinnamon and eat as is or serve with a home-made nut milk of your choice. Note: Preparation time is 15 minutes plus time for soaking and sprouting.