Kale Salad with Sauerkraut and Mushrooms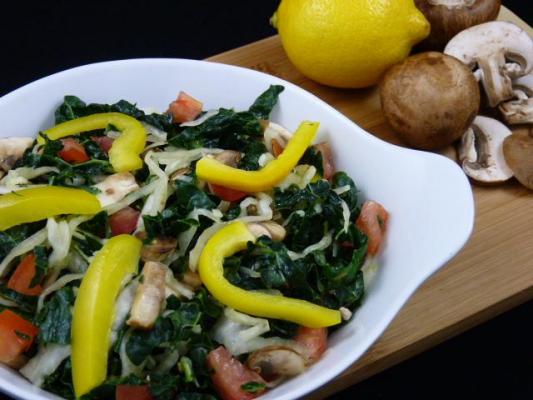 Courtesy of Beautiful on Raw
Published:
Preparation time:
Yield: 4 portions
Recipes with similar ingredients: kale, mushrooms, sauerkraut, sweet pepper, tomato
More recipes in category Salad
User rating*:
* Hover the stars to rate this recipe
Adding mushrooms to the kale salad gives the feeling of fullness we usually expect from a meal, while sauerkraut adds the zing and healthy probiotics to the mix.
DIRECTIONS
Ingredients:
1 bunch Lacinato kale, de-stemmed and leaves thinly sliced
6 tsp. lemon juice, divided
3/4 tsp. Celtic sea salt (or to taste), divided
1 cup raw sauerkraut
½ sweet yellow pepper, cut into thin strips
1 cup red tomatoes, finely chopped
3 Tbs. extra-virgin olive oil
5 cremini or white button mushrooms, thinly sliced
Marinate the mushrooms in 3 tsp. lemon juice and ¼ tsp. salt for 20 min. Sprinkle ½ tsp. salt over kale, and massage it into the leaves with your hand. Pour the remaining 3 tsp. lemon juice over the kale, and slightly massage again. Let it sit for 5-10 min. Add the rest of the ingredients to the kale, including the mushrooms, and gently stir.