Radish Greens Salad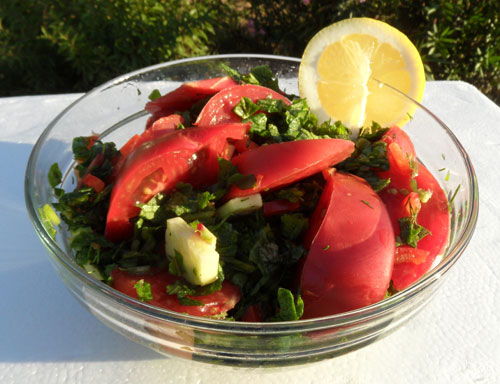 Courtesy of Tonya Zavasta
Published:
Preparation time:
Yield: 1 portions
Recipes with similar ingredients: cucumber, dill, lemon, radish greens, raw honey, sweet pepper, tomato
More recipes in category Salad
User rating*:
* Hover the stars to rate this recipe
Printer-friendly version
Radish greens are super high in Vitamin C, calcium and phosphorus and happen to be my favorite greens!
DIRECTIONS
Ingredients:
greens from 1 large bunch of radishes
1 large tomato, cut into wedges
½ of red pepper, minced
1 cucumber, chopped
a few sprigs of fresh dill weed
Celtic sea salt to taste
1/2 Tbs. raw honey
juice of ½ lemon
Wash and sort the radish greens, using the freshest and best looking ones. Chop very finely. Combine in a bowl with the other ingredients except the honey and lemon juice. Mix raw honey with the lemon juice to make a simple dressing and drizzle over the salad.