Russian Borsch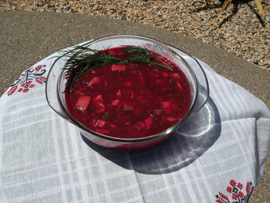 Courtesy of Beautiful on Raw
Published:
Preparation time:
Yield: 4 portions
Recipes with similar ingredients: avocado, beetroot, carrot, celery, cucumber, green onion, lemon, parsley, raw honey, sweet pepper, tomato
More recipes in category Main Course, Soup
User rating*:
* Hover the stars to rate this recipe
Printer-friendly version
Aside from juicing, one of my favorite ways to use fresh beets is this classic Russian Borsch recipe (modified to be raw of course) from Quantum Eating.
DIRECTIONS
Step 1 Ingredients:
1 ½ cups tomato juice
1 cup carrot juice
½ cup cucumber juice
½ cup celery juice
½ cup lemon juice
Combine all these juices in a large bowl. This should be 4 cups of freshly squeezed vegetable juice.
Step 2 Ingredients:
1 teaspoon raw honey
1 cup of beet root, shredded
1 cup sweet bell pepper, minced
1 medium cucumber, chopped
3 green onions, minced
1 large avocado, chopped
2 cups of tomatoes, freshly diced
¼ cup fresh parsley, chopped
dash of ground cumin (optional)
Celtic salt and cayenne pepper (optional)
Add all these ingredients to the bowl containing the vegetable juice. Stir well and refrigerate for 1-2 hours, so the flavors combine better. Serve chilled. Enjoy!
Preparation time is 45 minutes plus refrigeration time.