Veggie Wraps with Plum Ginger Sauce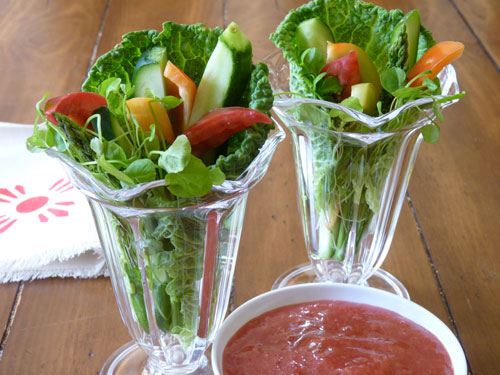 Courtesy of Beautiful on Raw
Published:
Preparation time:
Yield: 5 portions
Recipes with similar ingredients: asparagus, avocado, collard greens, cucumber, ginger root, lemon, lettuce, plums, savoy cabbage, sweet pepper, tomato
More recipes in category Salad, Snack
User rating*:
* Hover the stars to rate this recipe
Fresh plums make a great base for sauce or salad dressing. Their sweet and lightly sour taste complements any neutral-flavor fruits and veggies.
DIRECTIONS
Ingredients:
lettuce, collard, or savoy cabbage leaves for wrapping
2 cups plums, pits removed
2 tsp. fresh ginger root, peeled and chopped
½ tsp. lemon juice
pinch sea salt
vegetables and herbs to fill the leaves, such as bell peppers and cucumbers cut into strips, avocado, tomato, asparagus, watercress, parsley, etc.
Prepare sauce by blending together plums, ginger, lemon juice and salt. Set aside. Fill each leaf with vegetables and non-sweet fruits of your choice, pour the sauce on top, and serve.