Watermelon Sweet Mint Soup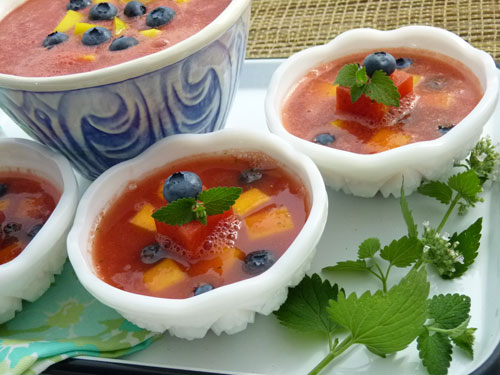 Courtesy of Beautiful on Raw
Published:
Preparation time:
Yield: 6 portions
Recipes with similar ingredients: blueberry, lemon, mango, mint, watermelon
More recipes in category Dessert, Snack, Soup
User rating*:
* Hover the stars to rate this recipe
A quick refreshing sweet soup for those really hot summer days when nothing gives quite the satisfaction of light and juicy fruits.
DIRECTIONS
Ingredients:
6 cups watermelon, peeled and cut into chunks
juice of 1 lemon
3-4 mint leaves
1 cup or more blueberries
1 mango, peeled, pit removed and cut into chunks
In a blender, combine the watermelon, lemon juice and mint leaves. Transfer to a bowl. Add cut mango and blueberries, and mix in. Serve in individual bowls. Cool in the refrigerator for a couple of hours before serving.