Raw Food Recipes (September 2010)
9/11/2010
September finds you floating happily amidst a sea of cleansing and nourishing raw food delights such as fresh, ripe blackberries, raspberries, beets, corn, tomatillos and tomatoes.
Russian Borsch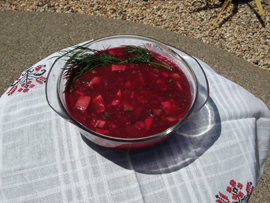 Aside from juicing, one of my favorite ways to use fresh beets is this classic Russian Borsch recipe (modified to be raw of course) from Quantum Eating:
Step 1:
1 ½ cups tomato juice
1 cup carrot juice
½ cup cucumber juice
½ cup celery juice
½ cup lemon juice
Combine all these juices in a large bowl. This should be 4 cups of freshly squeezed fruit and vegetable juice.
Step 2:
1 teaspoon raw honey
1 cup of beet root, shredded
1 cup sweet bell pepper, minced
1 medium cucumber, chopped
3 scallions, minced
1 large avocado, chopped
2 cups of tomatoes, freshly diced
¼ cup fresh parsley, chopped
dash of ground cumin (optional)
Celtic salt and cayenne pepper (optional)
Add all these ingredients to the bowl containing the vegetable juice. Stir well and refrigerate for 1-2 hours, so the flavors combine better. Serve chilled. Enjoy! Check out my earlier blog article for more info about the benefits of beets.
Serves 3-4
Fresh Salsa
Summer just doesn't seem complete without fresh, homemade salsa to spice up your raw food dishes!
Ingredients:
2 cups raw organic, non-GMO corn, cut off cob
4 cups fresh tomatoes, chopped
2 fresh ripe tomatillos, peeled and chopped
1 medium onion, chopped
1 medium green pepper
juice of 2 limes
1 small bunch of cilantro
1 jalapeno or chili pepper, seeds removed (optional)
sea salt to taste (optional)
Pulse all ingredients in a food processor until uniform but chunky. Alternately, you could just chop everything up very finely and stir together thoroughly. Let sit for at least an hour before serving to let the flavors combine.
Serves 4
Rich Purple Power Smoothie/Pudding
Thick or thin, it packs a punch that will last all morning or afternoon:
Ingredients:
1 medium cucumber
2 green apples
1 cup fresh raspberries
1 cup fresh blackberries
1 fresh peach (or banana)
2 leaves Lacinato kale, stems removed
1 avocado (optional)
Juice the cucumber and apple. Pour into a Vita-Mix or other blender with remaining ingredients and blend until smooth. Omit the avocado for a drinkable smoothie, but if you want a heartier pudding add it along with the rest of the ingredients.
Serves 2
Taco Salad
This is just one variation of a mouth-watering salad with zest, perfect for those post-Bikram yoga afternoons.
Ingredients:
4 cups leafy greens, your favorite kind (try a mix of Romaine and baby spinach)
1 avocado, chopped
1 handful of fresh cilantro, chopped
1 cup soaked and rinsed pistachios or pecans, lightly chopped
1 cup cucumber, sliced
1 cup jicama, grated
2 cups Fresh Salsa (see recipe above)
Layer ingredients atop greens in the order given in an attractive display. Dress with the salsa and eat while wearing a sombrero!
Serves 2