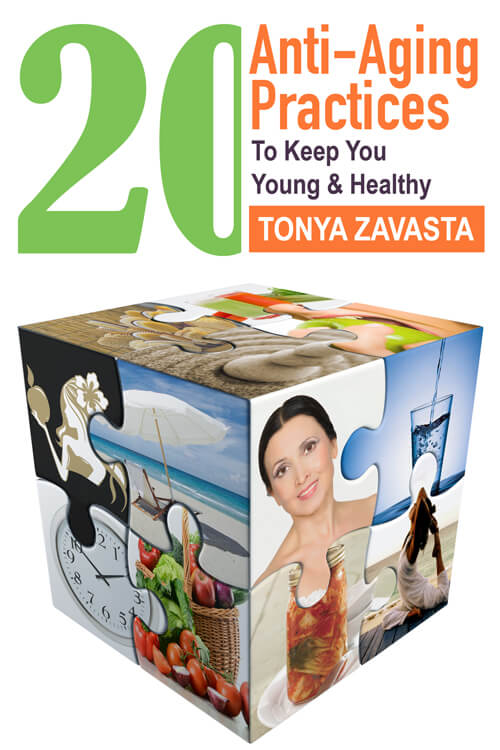 20 Anti-Aging Practices to Make You Look and Feel 20 Years Younger!
Now every new newsletter subscriber gets a FREE copy
In this e-book, I'm giving you an overview of 20 specific anti-aging practices—steps you can take to significantly slow down and many cases to reverse aging. You can feel and look younger than you ever thought possible.
I have done it and so can you!
GET THE BOOK
You can download this book after subscribing to my free monthly newsletter.
Subscribe to my FREE newsletter using this form.
Confirm your subscription by clicking a link in a follow-up email.
Get your download link via e-mail.
---
Many of these steps are out of the ordinary.
These are certainly not the standard recommendations you'll find in the popular supermarket women's magazines. Most, be advised, are not sanctioned by the medical profession, which primarily focuses on pathology and pharmacology—diseases and drugs, that is, and not prevention. Venerable health-promoting practices are largely not taught in today's medical schools. Not that these practices are medically unwise. Quite the contrary. It's just that these ideas don't originate from the take-this-pill response to disease which modern medicine promotes today.
Holistic Methods
The methods I'm describing here are holistic—they take your whole spirit and body into account, your entire health. They're practical. They work. These practices may look new to you, but they are often quite ancient—tested, in some cases, through centuries of trial and error by dedicated health-seekers. In many cases, though, they're entirely consistent with science and recent anti-aging research.
Very Affordable
Here's another attractive aspect for you regarding all 20 of these anti-aging practices: They're eminently affordable, many of them even free. No fancy equipment. No expensive products to buy. They're simple…easy to understand…learnable. Doable on your own and on your own terms.
There's not one on the list I haven't done or wouldn't use on myself. You will, I hope, find this a valuable little health-enhancing book, well worth your time.