History of Beautiful on Raw
History of Beautiful on Raw
Twelve Years Older…Twelve Years Younger…Twelve Years Wiser
It all started though, as a decidedly amateur, entirely personal effort. I wanted to look young and beautiful—simple as that!
In 2003 I'd already become an avid raw-foodist. I eat nothing that comes from a box, can, tube, or bottle. I'm all about cleansing and nurturing from the inside. Read about my raw food journey here...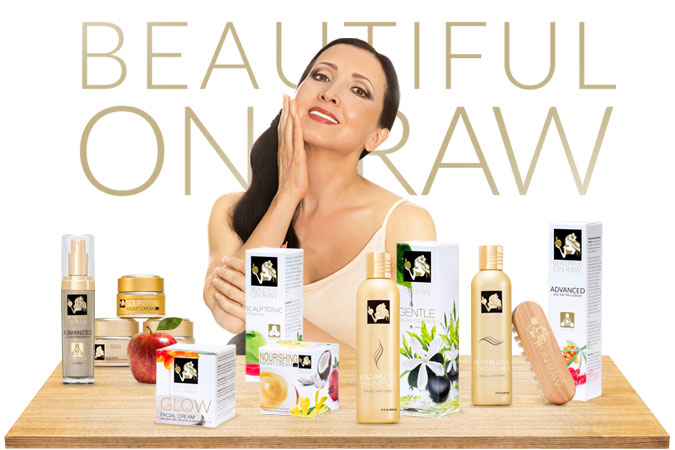 Ever since fully committing to raw foods in 1997, I've been after the purest cosmetics possible. As part of that effort, I started making my own facial cream for personal use—just for me. But as I got busier with writing books and going on lecture tours, I stopped. It's time-consuming. And I didn't want to go back to the stove to make it. I started looking for an ideal formula that would work well in tandem with my stringent eating regimen. And that's how the Beautiful on Raw line  of skin and hair care products started.
The Big Release—2006.
After years of searching for the right manufacturer, experimenting with numberless formulas, I finally had a successful facial cream and was ready to share it. Little did I know it would become our most popular product.
This specially formulated facial cream contains wild crafted & organic essential oils and certified organic herbs that promote healing and new cell growth. Its vanilla scent and whipped frosting-like texture smells and looks so delicious that you may be tempted to taste it! The ingredients include oils of almond, coconut, mango seed, sesame seed and avocado. But there is one "secret" ingredient that really makes this cream shine: Sea Buckthorn Oil.
The Sea Buckthorn plant (Hippophae rhamnoides - no, you won't find this one in your neighborhood nursery) is native to mountainous regions in Siberia, and has numerous skin care benefits as you can see in this infographic:
About that time, I had a brainwave: I tried dry-brushing my face. And loved it. Many already knew about body dry-brushing. Dry face-brushing seems both a natural extension yet a somewhat revolutionary idea because conventional opinion says: baby your facial skin. But dry brushing strips old cells and your skin is forced to renew. Nothing works better on dry skin—especially if you juice daily. I knew I wanted to dry brush daily, but I needed to find the right brush.
While there were body brushes, the few facial brushes were way too soft. I set out to make my own. Trials and innumerable errors later…I finally found some natural bristles that were gentle enough not to scratch the face, yet stiff enough for effective exfoliation. That's how my Facial Brush for Glowing Complexion came to life.
But I didn't stop there. I kept looking for sustainable plant fibers for my facial bush. The search led me to tampico fiber which comes from the stalk of the Agave plant. Coming soon—December 2013…our new Agave fiber brush. Perfect for the body. A bit tough for the face. The search continues…
A Roller with Needles? Who'd Have Thought…?
In 2007 I came across this interesting tool, tried it on my scalp and face and… Wow! I've been rolling ever since. You almost feel new blood rushing to the surface, giving you a warm glow. I contacted the company, asked them to revise their specs for me and my clients. (One of the key changes: making it nickel FREE). January 2007 brought us RejuvaRoll aka the Rolling Bed of Pins. Frightful name—great product!
RejuvaRoll stimulates surface blood flow using a series of small pins in a rolling action. You roll it against your facial skin in any direction. Actually you can use this device for any area of your body to reduce pain and speed the healing effect of improved circulation.
My Violet Ray Device, Available since early 2007.
The background is interesting… Your hair records the history of your health. When you change your diet for the better, old hair will be replaced gradually by new, more fully alive hair. This marked the stage when Nikola Tesla's Violet Ray device has proved invaluable for me. If you need to address hair loss fast, a Violet Ray is the best tool to use. It is also invaluable in improving skin tone and clearing acne and blemishes.
We've switched manufacturers since early days for better quality and a product offering more electrodes for better coverage.
The Green Clay Facial Masque
I've been applying masques daily since I was 33. I kept changing brands, liking this feature in one, that in another. I came to know a fair bit about masques. I knew I wanted a clay masque, because clay removes toxins and impurities. I wanted a daily masque, but the directions on the masques out there were only for twice weekly use—too drying if used daily.
My challenge was to slow the drying process. After buying and discarding formula after formula, learning from each frustration, I found the right conbination at last: Multi-Herbal Green Clay Masque. 
The Quest for Beautiful Hair
Sometime in 2008 I read about a woman with gorgeous hair who said her secret was a cayenne pepper tincture she used daily on her scalp. It prompted me to start experimenting with tinctures. I found that not only cayenne pepper, but also extracts of mustard greens as well as nettles are very good for hair growth. There was no stopping me, now!
I wanted all the herbs known to help with hair loss in my hair product. Ingredients-wise, our Scalp Tonic—first released in September 2009—has been quite the adventure. In April 2011 we added new components—apple stem cell extract, Rooibos and olive leaf extracts. In December 2013, we're adding Ginseng extract, known for its remarkable value in combating hair loss.
The year 2009 also saw our release of a shampoo and conditioner. Finding the right shampoo and conditioner has always been a challenge for me. My hair is ultra-fine, and most products tend to leave my hair feeling stiff, dull, as if it had been stripped. I wanted it all—volume, shine, softness, manageability, all in one.
I made a list of the most effective herbs known to contribute to beautiful hair and how could I get each into my hair products? That's how I learned about amla fruit extract, milk thistle, saw palmetto and other herbs geared to improve lifeless hair. And that's how my Volumizing Shampoo and Revitalizing Conditioner came about.
Siberian Pine Chewing Gum — July 2010.
Victoria Boutenko's notion of giving daily stimulation to our gums by chewing attracted me.The most obvious solution: a natural gum. But where to find it?
Hmmm… pine resin, perhaps? I found you just couldn't get that from some mail order house in Schenectady. My mom called all over Siberia's small towns searching for a supplier or a manufacturer. This is the least complicated of my products, but it was the hardest to locate.
Siberian Pine Gum
Natural and sugar free
It's simply the resin of certain species of the genus Pinus--pine trees—found in northern Asia, across the cold Russian steppes. Nature herself squeezes it from trees, and we package it for you. It's perfect for chewing only when it gets into your mouth and reaches body temperature.
I'm hooked—I chew my Siberian Pine Chewing Gum all the time when I drive. Even around my seven root-canaled teeth, my own gums are in great shape condition. My dentist nagged me to remove those teeth. He's stopped now that things have improved so much. I credit the gum!
Bentonite Oral Balm, first released in January 2011
Bentonite clay with white oak bark and wheatgrass extract turned out to be a winning combination to leave my mouth fresh, clean and healthy. The difference is so remarkable—I won't touch a conventional white silica toothpaste now, nor do many of my customers. Bentonite Oral Balm just works, feels and tastes so much better!
Bentonite Oral Balm
white oak bark & wheatgrass
More importantly, the two key ingredients bring amazing dental health results. Bentonite clay has unique absorption properties. Bentonite is popular the world over for its ability to draw out and absorb toxins, heavy metals and other impurities. Its unique swelling structure attracts and soaks up poisons rather like a sponge which is why it's widely used for internal cleansing. White oak bark extract's potent antiseptic and astringent properties help protect against bacterial invasion while tightening gum tissues. I researched all the herbs ever known to promote healing for teeth and gums, and added those in the formula as well.
Skin Rejuvenator—released in May 2012
Rapid cell turnover is the key to rejuvenation. I never stop looking for better ways to exfoliate and stimulate the skin. In the Far East, I read, women have long used flat seashells to scrub their skin and apply olive afterwards to keep their skin beautiful.
Facial Strigil
exfoliate and stimulate
Loosely based on the ancient Chinese skin scraping gua sha technique, our Mother of Pearl Skin Exfoliator does not, however, leave red marks or make you feel uncomfortable, scraped and scratched—ideal for use on the face.
If you've been shy about my facial brushing technique, this product is a great chance to establish an enjoyable daily exfoliation practice—an easy prerequisite to dry-brushing. If your skin's just not ready for regular dry-brushing, here's an excellent way to build up your resilience.
Dry-brushing twice daily is too much for anyone's skin. But using one technique in the morning and another at night might raise your exfoliation an additional beautifying notch. I found that my Skin Exfoliator works better with a light moisturizer—perfect for mornings. Dry-brushing works best when followed by a night cream. I usually use my Skin Exfoliator in the morning and the Facial Brush at night. I've also released a video demonstrating how to use the Skin Exfoliator.

Nourishing Night Cream
Until I was 54, I never used a night cream. My Facial Cream with Sea Buckthorn Oil had been all I needed. Then I started to feel a need for a more oily product to use at night to keep moisture locked in—especially during the winter. As well, I'd always wanted to create a facial cream with absolutely no preservatives. With a water based moisturizer, that simply wasn't possible. Using beautifying oils only, I had my chance. But now the challenge was how to make the final product look like a cream, not an oil. The result: better than I ever expected. The consistency is velvety, with a heavenly scent of ylang ylang oil to match.
In June 2012, I released a product made from cold-pressed oils, containing absolutely no preservatives, a Night Cream that's as natural and as close to raw as any beauty product could possibly be.
Face Cleanser?
I'd been making my own cleanser for years, and advised clients to do the same. But as I approached 55, still wanting my skin to look smooth, soft and supple, I found that just about any soap involves some harshness for the skin. So I sought to develop a truly gentle cleanser, using the latest cosmetic science could offer. In February, 2013, I released the Gentle Facial Cleanser.
Venus Body Sculpting Cups
Fact: After 50, your youth, your beauty, is up against the wall. Skin deep isn't deep enough anymore. Eating well becomes more important than ever. Even your beauty tools have to reach deeper to stimulate deep underlying tissues—not just the dermis and epidermis, as was sufficient when you were younger. Sculpting cups do just that. A light initial bruising will convince you that their action is very deep—this is not for the faint of heart. You must proceed gradually and follow directions to keep bruising to a minimum.
In April 2013, I introduced my Venus Body Sculpting Cups along with a video showing how to perform a sculpting massage effectively for skin tightening, for combating cellulite, and for overall improved skin regeneration. The notion of vacuum cups has been around for centuries. But the innovation in our Venus Cups is that there is no need for heat, and our cupping massage leaves minimal redness when compared to the cupping therapies used for medical purposes.
Advanced Age Defying Serum - BRAND NEW!
This new serum has all the essential ingredients that were in the original cream, and then some...goji berry oil…sea buckthorn fruit and seed oils…plant stem cells…and patented breakthrough anti-wrinkles peptides.
I'm getting older—chronologically, anyway—so I need more ammunition. I've made sure everything I could find on the market that was promising is present in this new formula. Here's more info about it.
Age-Defying Serum
advanced formula, inimitable results
I started Beautiful On Raw when I was 45. Fourteen years on, I'm 59. My skin is more even and bright and clear than before. My hair is longer, fuller. How is that possible? My answer: a diligent beauty routine with the products I described about. We have thousands of satisfied customers. Visit our testimonial section. Then try the products and see for yourself.
Before I go…one more thing. My personal, heartfelt message to you: Eat raw as much as you can. Beauty after 40 is health dependent and reaches down for the resources only health can provide.
We do not test our products on animals.
Go to...