Cleansing Cranberry Juice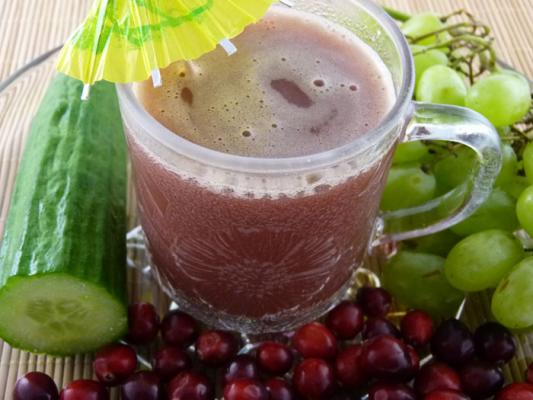 Courtesy of Beautiful on Raw
Published:
Preparation time:
Yield: 2 portions
Recipes with similar ingredients: cranberry, cucumber, grape
More recipes in category Juice, Shake
User rating*:
* Hover the stars to rate this recipe
Cranberries are in season right now in the United States, and if you ever miss the taste of bottled cranberry juice, now is the time to make it fresh. The natural sweetness of grapes and the mild taste of cucumbers with their high water content turn this juice into an ultimate kidney cleanser.
DIRECTIONS
Ingredients:
1 cup fresh cranberries
3 cups green grapes
1/3 of a long English cucumber
Run all the ingredients through your juicer and drink right away to get maximum health benefits. An alternative method would be to blend the cranberries, grapes and cucumber in a high-speed blender and then squeeze the mix through a nut milk bag until the pulp is dry.