Mango Coconut Parfait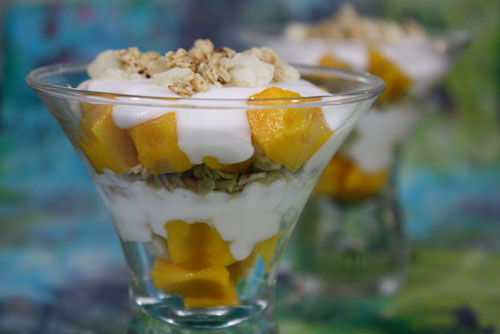 Courtesy of Heather Pace
Published:
Preparation time:
Yield: portions
Recipes with similar ingredients: coconut, lemon, macadamia nuts, mango
More recipes in category Dessert
User rating*:
* Hover the stars to rate this recipe
Printer-friendly version
Beautiful dessert from Heather Pace at www.sweetlyraw.com.
DIRECTIONS
Ingredients:
1 batch "easy coconut cream" (see below)
1 mango, diced
Handful macadamia or other nuts
1 Tablespoon dried coconut

Easy Coconut Cream
1 cup packed young coconut pulp
1/2-2/3 cup young coconut water
3-4 drops stevia
1/2 teaspoon pure vanilla extract of the Seeds of 1/4 vanilla bean
1/2 teaspoon lemon juice
Blend all ingredients until smooth and creamy.  Chill for a few hours or use immediately. To assemble, layer the coconut cream with mango, nuts, and dried coconut.