Zucchini Noodles with Chunky Tomato Sauce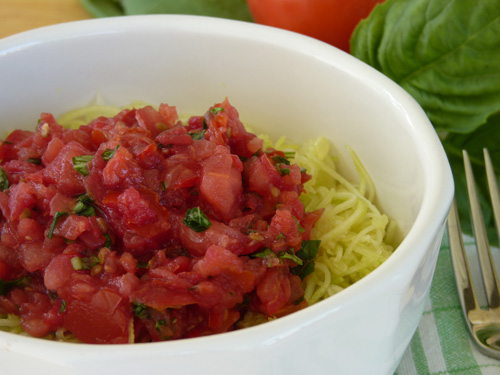 Courtesy of Beautiful on Raw
Published:
Preparation time:
Yield: 2 portions
Recipes with similar ingredients: basil, garlic, lemon, tomato, zucchini
More recipes in category Main Course, Salad, Snack
User rating*:
* Hover the stars to rate this recipe
Easy and quick to make, this raw dish uses simple seasonal produce to result in a refreshing pasta-like dish. Try it as a substitute for your daily salad.
DIRECTIONS
Ingredients:
2 zucchinis, peeled
4 Roma tomatoes, chopped
8 basil leaves, chopped
2 -3 garlic cloves, peeled
1 tsp. lime or lemon juice
½ tsp. or more Celtic sea salt
Prepare the sauce by pulsing tomatoes, basil, salt and lime juice in a food processor making sure the sauce remains somewhat chunky in texture. Adjust the salt if necessary. Spiralize the zucchini using a spiralizer (or you can use a vegetable peeler that can take thin strands off zucchini). Press garlic through a garlic press, and massage it into the noodles with your hands. Serve the dish by pouring the sauce on top of the noodles. Eat right away before the spiralized zucchinis release all of their water.