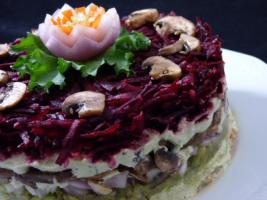 Tired of traditional salads? This recipe puts a whole new spin on the salad theme. The idea for this festive layered salad comes from Russian cuisine.
Traditional Russian salad recipes often include herring, boiled potatoes and mayonnaise. But this healthy variation is chock full of raw goodness. Instead of cooking vegetables, use them in their raw state. Let mushrooms be the substitute for herring and have the avocados stand in for potatoes—more tastily, too! No mayo, either—instead, a nut-based dressing.
A decided improvement in taste and nutrition. A real novelty, too. Your party guests will never have seen or tasted this one! Guaranteed to impress.