Zesty Radish Greens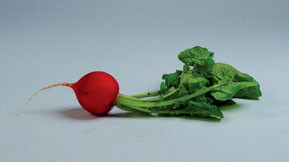 Russians dig radishes—literally and figuratively. Back home in Russia we'd long for early spring and the appearance of fresh radishes in the markets. We always discarded the greens. Then, for most of the  years we've lived in America, we've always used radishes in our salads, and thrown away the leaves. But just weeks ago at the market, my husband Nick heard another customer say he use radish leaves in his salad. Hmmm…we decided to experiment that very day. Result…the best salad!
Now I'm all excited about eating radish greens.Radish greens are edible, tasty, and nutritious! But the flavor can be strong, so use them VERY sparingly at first. You may substitute them for arugula or mustard greens in recipes. Learn more about the benefits of radish greens here.
Recipe Servings: 4
Recipe Total Time:
Ingredients:
1 large bunch radish greens
2 teaspoons Celtic sea salt
1 tablespoon raw honey
1/2 cup water
Wash and sort the greens, using the freshest and best. Chop coarsely. Combine in a bowl with salt, honey and water. Let sit 30 minutes to several hours, refrigerated. Just before serving, drain and squeeze dry in a paper towel. Place in small serving bowl and add a dash of fresh lemon juice and salt to taste. Add other favorite fresh vegetables to the serving bowl as desired.