Mother of Pearl Skin Exfoliator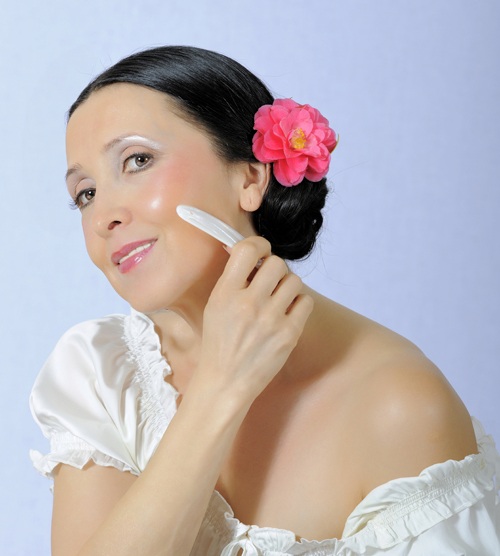 New Skin Exfoliating Technique for a Glowing Complexion
Available at our online store!
I'm delighted to offer a brand new product—my Mother of Pearl Skin Exfoliator. It's a specialized instrument for applying gentle friction to the skin. Short strokes with the Skin Exfoliator will increase blood circulation and clear metabolic wastes that may be congesting surface tissues and muscle fibers. The technique is based in part on a non-invasive Chinese traditional medical treatment.
Treatment with your Skin Exfoliator:
improves circulation in the applied areas,
p

romotes an even complexion and finer texture

,

boosts collagen and elastin production, and

stimulates cell renewal.
The procedure helps to reduce the appearance of fine lines, wrinkles and discoloration and prevents sagging of the skin. This therapy feels somewhat like a deep-tissue massage, effectively releasing muscle tension, tightness and constriction while helping to detox underlying tissues.
Instructions for Use:
First, apply a
good moisturizer
on your face and décolleté area. Then hold the Skin Exfoliator by the thicker edge and make repeated scraping strokes, applying pressure on your lubricated face and décolleté area with the thinner (sharper) edge. Remember to make gentle, upward "scraping" movements—you're not cutting or sawing.
Your intent is to raise small red spots through firm (never violent or irritating) friction of the tool against your skin. You should feel no discomfort. The resulting redness should fade within 30 to 60 seconds. If the redness is slow to fade, this
may
indicate poor blood circulation that may require additional treatments (as well as a review of your diet). Go gently, but regularly. Once a day is ideal.
Mother of pearl is the perfect material for our Skin Exfoliator. It's thin enough to create a gentle peeling and stimulating action, and thick enough for ease in handling. It holds a safe edge, never too sharp. It's all-natural, biologically neutral. It's made from seashells. Be especially gentle as you begin your new regime, until you judge just the right pressure for your skin.
When facial creams just aren't enough to deliver the freshening effect you want, my Mother of Pearl Skin Exfoliator may be just the ticket!

Caution!
You may at first (unless your skin is already remarkably healthy) experience a little bit of a breakout as your body sends fresh, healing blood into underlying tissues—a natural consequence of improved circulation and the clearing of metabolic wastes. If you're not prepared to go through this detox stage, please do not buy this tool.

Morever, know that—effective as my Mother of Pearl Skin Exfoliator is—it's not a cure-all. If you read my books and blog, you already know I'm interested in attacking problems at their root—not just covering up symptoms. For marked improvement in the look, feel, and health of your skin, improving your diet is a must.
What's the difference between the Skin Exfoliator and the Facial Brush?
1. The Skin Exfoliator provides a more gentle exfoliation than dry brushing.
2. Dry brushing is done on washed and damped dry skin. The Skin Exfoliator is used on a lavishly moisturized face.
3. If your skin is not ready for regular dry brushing, this is an excellent way to build up skin resilience.
If I already dry brush every day, do I need the Skin Exfoliator?
Not necessarily. It is entirely up to you. To dry brush twice per day is too much for any skin, however to use one technique in the morning and another at night might raise the level of your exfoliation an additional beautifying notch. I find that the Skin exfoliator works better with a
light moisturizer
and therefore it's more approapriate for mornings. I usually use the Skin Exfoliator in the morning and the
Facial Brush
at night.
Available at our online store!