Cauliflower Parsnip Mashed "Potatoes"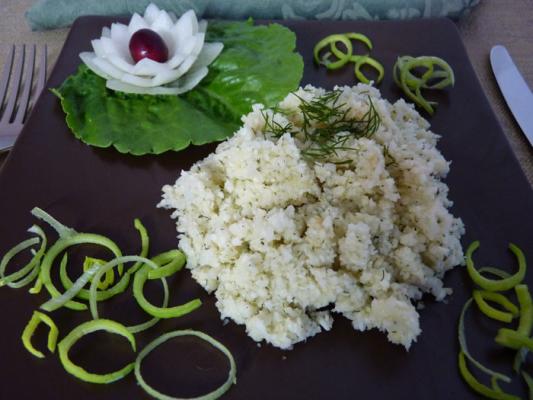 Courtesy of Beautiful on Raw
Published:
Preparation time:
Yield: 2 portions
Recipes with similar ingredients: cauliflower, garlic, lime, parsnip
More recipes in category Main Course
User rating*:
* Hover the stars to rate this recipe
A versatile side dish, mashed "potatoes" are great for the holidays or for any time of the year. Parsnips and cauliflower complement each other to create the raw version of this beloved holiday dish.
DIRECTIONS
Ingredients:
2 cups cauliflower florets, chopped
1 cup parsnips, chopped
½ tsp. Celtic sea salt
2 Tbs. lime juice
dash black pepper
1 tsp. dried dill weed
1 clove garlic, minced
1 Tbsp. olive oil (optional)
Place cauliflower and parsnips in a food processor and blend until you achieve the consistency of small grains. Add the rest of the ingredients, and process some more, blending everything together.  Keep in a cool place until ready to serve. If you are expecting company, double or triple the recipe.