Hummus Sandwich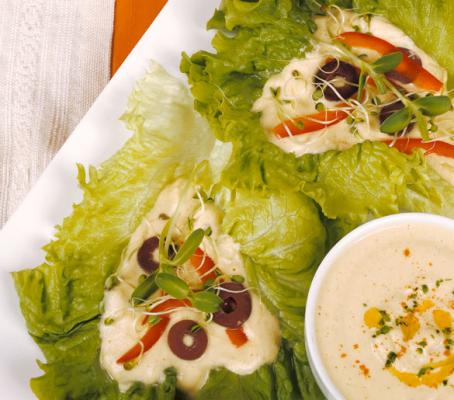 Courtesy of Jennifer Cornbleet
Published:
Preparation time:
Yield: 6 portions
Recipes with similar ingredients: cumin, garlic, lemon, lettuce, olives, paprika, sweet pepper, tahini, zucchini
More recipes in category Main Course
User rating*:
* Hover the stars to rate this recipe
Printer-friendly version
Jennifer Cornbleet shared this recipe with us from her book "Raw Food Made Easy for 1 or 2 People".
DIRECTIONS
Ingredients:
2 large leaves Romaine lettuce
1/3 cup Zucchini Hummus (recipe below)
1/4 red bell pepper, sliced into rings
2 Tablespoons sliced black olives
Spread one of the lettuce leaves with the hummus and arrange the bell pepper and olives over it. Put the second lettuce leaf on top. Serve immediately. This makes 1 sandwich.
Zucchini Hummus
1 1/2 cups peeled and chopped zucchini (about 1 zucchini)
2 Tablespoons raw tahini
2 Tablespoons freshly squeezed lemon juice
1/2 teaspoon crushed garlic
1/4 teaspoon ground cumin
1/4 teaspoon paprika
1/4 teaspoon salt
Put all the ingredients in a food processor fitted with the S blade and process until smooth, stopping occasionally to scrape down the work bowl with a rubber spatula. Store in a sealed container in the refrigerator. Zucchini Hummus will keep for 5 days.
For this and other recipes by Jennifer, check out her book at this link:  www.learnrawfood.com/books