Macadamia Fig Fromage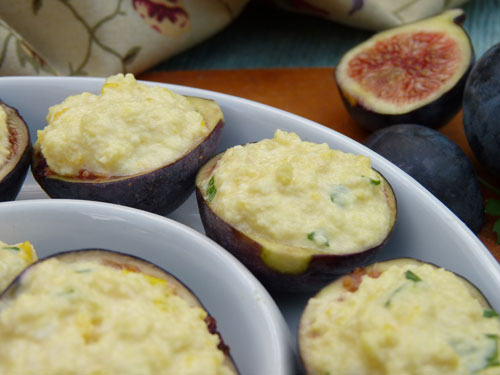 Courtesy of Beautiful on Raw
Published:
Preparation time:
Yield: 4 portions
Recipes with similar ingredients: figs, lemon, macadamia nuts, parsley, sweet pepper
More recipes in category Main Course, Snack
User rating*:
* Hover the stars to rate this recipe
For those days when fruit alone just won't cut it and you would like something more grounding and filling for a meal. Raw macadamia nuts turned into "cheese" make a delicious filling for figs, a spread for crackers, or a dip for cut vegetables.
DIRECTIONS
Ingredients:
15 fresh black figs, stems trimmed
1 cup macadamia nuts, unsoaked
3-4 Tbs. lemon juice
1 yellow bell pepper, seeds and stem removed, chopped
½ tsp. Celtic sea salt
pinch cayenne pepper or to taste
1 Tbs. of parsley leaves, minced
Puree lemon juice, bell pepper, cayenne pepper and salt in a blender. Add macadamia nuts and process until the mixture resembles cottage cheese, adding just enough water if necessary to keep the blades of the blender engaged.  Add parsley and pulse until the leaves are evenly mixed in. Transfer the mixture to a bowl and cool in the refrigerator covered with plastic wrap. Meanwhile, halve the figs lengthwise. Remove the sweet red flesh with the knife, being careful not to pierce the fig skin, and reserve for another recipe. Fill the fig cavities with macadamia mixture, and serve.