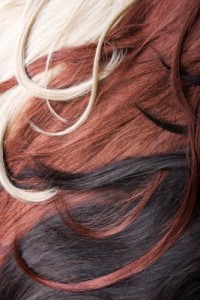 What gives hair that frizzy look? The part of your hair that you see—the shaft—consists of three layers. The outer layer is called the cuticle. It's transparent, and under magnification looks like tiny overlapping fish scales. When the scales lie flat, hair looks healthy, normal, shiny. When the scales don't lie flat, you get "frizzy hair," and your hair loses its shine, takes on that dull, lifeless look.
It's not just a matter of looks. The function of hair's outer cuticle layer is to protect the soft middle layer, the cortex. When the cuticle's scales get ruffled…no protection!  This may lead to split ends over time, a condition called trichoptilosis.
Some ends can actually split into several pieces, even break off easily. Neglect them a while longer, and those split ends will migrate up the length of your hair shaft toward the roots, damaging the entire hair length, leaving you with just one option—cutting all that damaged hair off!
Why does hair get frizzy? There are several causes. Here are the major ones: Read the rest of this entry »