Carrot Falafel Wraps with Sweet Tahini Dressing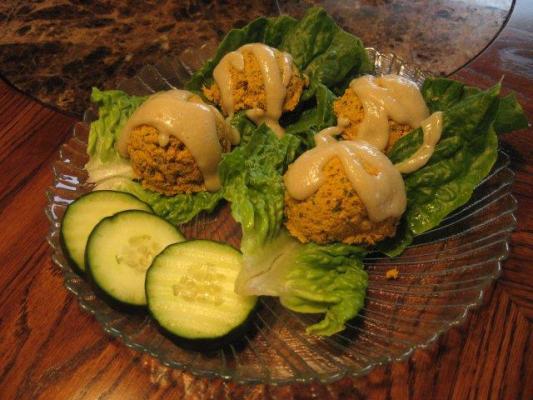 Courtesy of Kelli Haines
Published:
Preparation time:
Yield: 3 portions
Recipes with similar ingredients: cilantro, flax seeds, garlic, lemon, lettuce, raw honey, Romaine lettuce, tahini
More recipes in category Main Course
User rating*:
* Hover the stars to rate this recipe
These wraps come together in a matter of minutes, and these falafel won't weigh you down and make you feel awful.
DIRECTIONS
Ingredients:
2 cups of fresh carrot pulp, leftover from making carrot juice
1 cup of sesame seeds, freshly ground (coffee grinder works great for this)
½ cup parsley, chopped
½ cup cilantro, chopped
1 Tablespoon flax or chia seeds
1 tsp. sea salt (optional)
2 Tablespoons fresh lemon juice
¼ cup chopped onion
1 clove garlic, minced
dash of cumin
Large, flat Romaine lettuce leaves
Blend everything except lettuce thoroughly in a food processor until the mixture holds together and can be shaped into balls. Using an ice cream scoop, form into balls and place atop Romaine lettuce leaves. Drizzle with the following dressing:
2 Tablespoons raw tahini
1 Tablespoon raw honey
2 Tablespoons fresh lemon juice
pinch of sea salt
Whisk together in small bowl until smooth and pour generously over the falafel balls.