Cucumber Rolls with Garlicky Beets Filling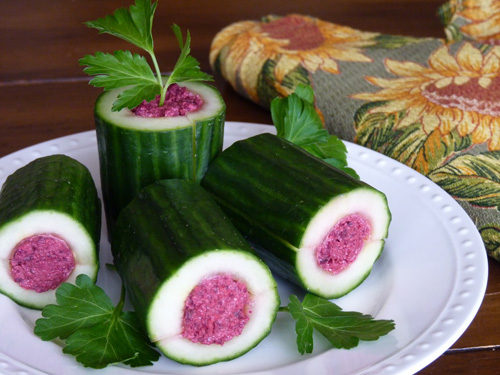 Courtesy of Beautiful on Raw
Published:
Preparation time:
Yield: 6 portions
Recipes with similar ingredients: beetroot, cucumber, garlic, lemon, lime, sunflower seeds, tahini
More recipes in category Salad, Snack
User rating*:
* Hover the stars to rate this recipe
An eye-catching appetizer for a potluck or just for snacking. Easy way to eat beets, which are especially good for cleansing at this time of the year.
DIRECTIONS
Ingredients:
2 English cucumbers, cut into sections (see photo)
½ cup sunflower seeds, soaked for a few hours, rinsed and drained
1 small beet, peeled and chopped
3 garlic cloves, peeled and chopped
2 Tbs. raw sesame tahini
1 Tbs. or to taste lime or lemon juice
½ tsp. Celtic sea salt
2 Tbs. water
Place sunflower seeds in a food processor with an S blade and process until finely ground. Add the beets, garlic, tahini, lime or lemon juice, salt and water, and process the mixture until well blended and the beets are completely broken down. Add more water if needed, to get the mixture resembling the texture of hummus. Cut the cucumber chunks in half lengthwise, remove some flesh to make space for the filling (apple corer comes in handy for this step), and fill the cucumbers with the filling. Put two pieces of cucumber together and place on a plate. You can cut the rolls into smaller pieces if desired, such as for serving a big crowd. Note: Preparation time is 20 minutes plus soaking time.