Festive Tomatillos and Daikon Salsa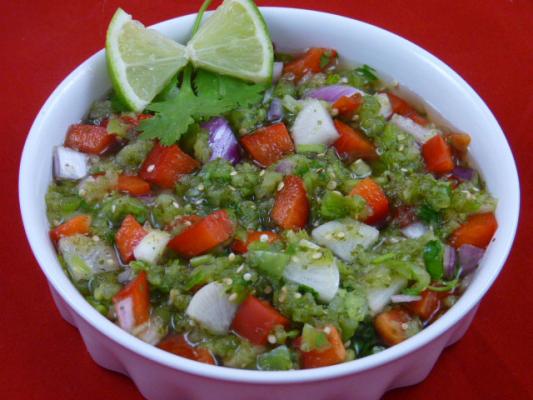 Courtesy of Beautiful on Raw
Published:
Preparation time:
Yield: 2 portions
Recipes with similar ingredients: agave nectar, cilantro, daikon, hot pepper, kelp, lime, red onion, sweet pepper, tomatillo
More recipes in category Snack
User rating*:
* Hover the stars to rate this recipe
Spicy and sweet blend well in this crunchy salsa.
DIRECTIONS
Ingredients:
6 tomatillos, husks removed and quartered
2 tsp. Jalapeño pepper, finely chopped
¼ cup cilantro, chopped
3/4 tsp. Celtic sea salt or to taste
¼ cup red onion, finely chopped
½ red bell pepper, finely chopped
½ cup daikon radish, finely chopped
3 tsp. lime juice
1 Tbsp. kelp granules
1 tsp. raw coconut nectar or raw agave nectar
Using the pulse mode on your food processor, process together tomatillos, Jalapeño pepper, cilantro and salt, until broken, but still chunky in texture. Transfer to a bowl. Add chopped radish, onion, red bell pepper, lime juice, kelp and coconut nectar. Serve with crackers or over zucchini spaghetti.