Happy and Healthy Wakame Soup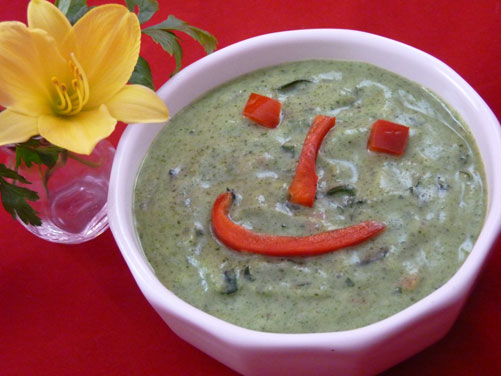 Courtesy of Beautiful on Raw
Published:
Preparation time:
Yield: 2 portions
Recipes with similar ingredients: avocado, cucumber, red onion, sweet pepper, wakame
More recipes in category Soup
User rating*:
* Hover the stars to rate this recipe
Sea vegetables in this dish provide a mineral-packed treat for your whole body. The cucumber joins in to help you look beautiful as well.
DIRECTIONS
Ingredients:
½ cup wakame seaweed, soaked in 1 cup water for 10 min., then finely chopped
5 cups cucumbers, cut into chunks
1 cup water
1 avocado
3 Tbs. apple cider vinegar
1 tsp. Celtic sea salt
1 Tbs. unrefined expeller-pressed sesame oil
¼ cup red onion, finely chopped
½ red bell pepper, finely chopped
In a high-speed blender combine 4 cups cucumbers, half of soaked wakame, water, avocado, oil, salt and vinegar and blend until smooth. Pour into a big bowl, and mix in 1 cup of finely chopped cucumber, red onion, red bell pepper and the remaining wakame. Stir together gently, adjust the salt, and serve.