Kabocha Squash Soup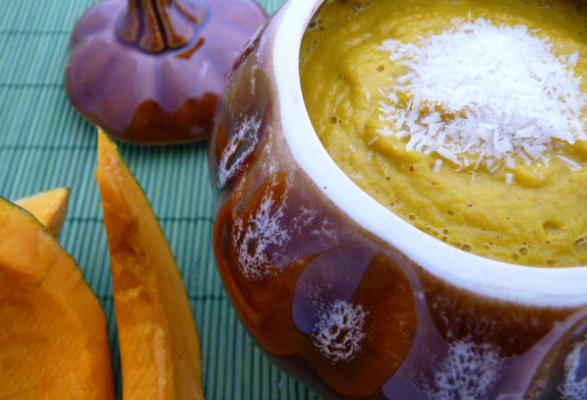 Courtesy of Beautiful on Raw
Published:
Preparation time:
Yield: 2 portions
Recipes with similar ingredients: avocado, dates, figs, squash
More recipes in category Soup
User rating*:
* Hover the stars to rate this recipe
The sweetness of the squash and fruits and the hint of warming spices make for a comforting creamy soup. Instead of Kabocha, you can use any hard squash you have on hand.
DIRECTIONS
Ingredients:
2 cups Kabocha or other hard squash, peeled, seeds removed, and cut into pieces
2 and 1/3 cups water
1 avocado, peeled and pit removed
7-8 fresh figs, or 6-7 soaked dates, pits removed and chopped
dash of cinnamon
dash of nutmeg
dash of sea salt
Blend the ingredients in a high-speed blender for a minute or so until smooth. Garnish with chopped pecan nuts or grated coconut.