Lemon Garlic Dressing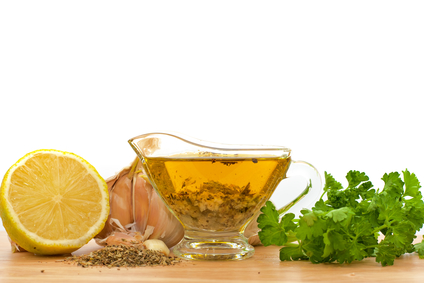 Courtesy of Beautiful on Raw
Published:
Preparation time:
Yield: 2 portions
Recipes with similar ingredients: garlic, lemon, olive oil
More recipes in category Dressing
User rating*:
* Hover the stars to rate this recipe
Here's a basic salad dressing you can quickly whip up at home to help wean you off of those store-bought salad dressings.
DIRECTIONS
Ingredients:
1/3 cup olive oil (replace with avocado and a little water if not using oils)
3 Tbsp. fresh lemon juice or raw apple cider vinegar
1 clove garlic, crushed
1/2 tsp. Celtic sea salt
1/4 tsp. black pepper
optional: dried or chopped fresh herbs, such as rosemary, parsley, dill, basil, oregano, thyme
Whisk together in a bowl. Can be stored for several days in a closed glass container in the fridge.