Radish Greens Salad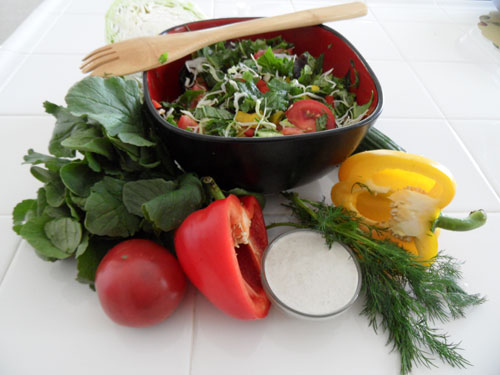 Courtesy of Beautiful On Raw
Published:
Preparation time:
Yield: 2 portions
Recipes with similar ingredients: coconut, cucumber, green cabbage, hemp seeds, lemon, radish greens, sweet pepper, tomato
More recipes in category Dressing, Salad
User rating*:
* Hover the stars to rate this recipe
Radish leaves make an excellent addition to a salad.
DIRECTIONS
Salad
Ingredients
1/4 cup green cabbage, finely minced
1 cup radish greens, finely minced
1 cucumber, finely minced
1 cup tomatoes, finely minced
1 large bell pepper, finely minced
3 tablespoons fresh dill, finely minced
Hemp Seeds Dressing
Ingredients
1 young Thai coconut–water and the "meat"
1/2 cup hemp seeds
juice of 1/2 lemon
Celtic sea salt to taste
Combine all the dressing ingredients in a blender and blend until smooth. Pour over individual servings of the salad when ready to eat.