Zesty Green Soup with Toppings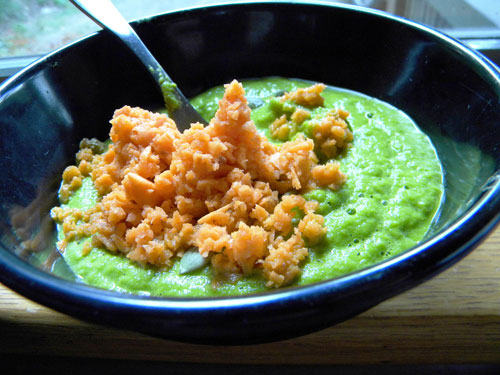 Courtesy of Paige K. Rideout
Published:
Preparation time:
Yield: 2 portions
Recipes with similar ingredients: avocado, carrot, ginger root, pumpkin seeds, spinach, sprouts
More recipes in category Soup
User rating*:
* Hover the stars to rate this recipe
Printer-friendly version
Versatile soup from Paige K. Rideout.
DIRECTIONS
Ingredients:
2 handfuls baby spinach
2-3 medium carrots
1/2 avocado (more if you'd like a thicker soup)
Ginger root to taste (I use about a thumb-sized piece, sliced, diced, or grated; experiment according to your tastebuds)
3/4 cup to 1 cup room temperature water
Spices as desired (I use organic chili powder, garlic, organic cajun powder, etc.)
Blend together in a Vitamix (high-speed blender) and pour into cups or bowls.
Ideas for toppings:
Diced carrots
Pumpkin seeds
Sprouts
Whatever other goodies you find in your beautiful Raw kitchen!