Health Benefits of Raw Foods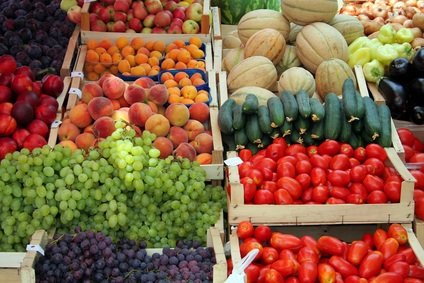 We are what we eat. Food tremendously affects your health and appearance. How can you look your best without being healthy? One thing leads to another, and the cause-and-effect relationship in this case is very important. Being healthy means feeling and functioning at your best, and being willing and able to get as much from life as you can. Being healthy allows you to live life to the fullest!
Living in the modern world can be very detrimental to our health. Not everything that is presented to us in the name of health will be in our best interest. 
But what if they are all wrong? In order to truly be healthy, you must learn the facts, follow your own path, and take responsibility for your own health, despite popular opinion or the latest fad.
I want you to be healthy! That's why I want to share the raw food lifestyle with you. It is nothing new: it has been around for a long time, but there is no doubt in my mind that it works and will help produce the results that you want. If you want to improve your overall health, you have to entirely change your food habits in order to accomplish this. Don't worry! You will not be alone on your road to health improvement, because you will have the benefits of years of my research to help steer you to your own state of superior health.
Start with my first book "Your Right to Be Beautiful: Miracle of Raw Foods" This book will give you the understanding of what is meant by the term "raw food", identify which foods are healthy and which are not, and give you the basis for changing from your old diet to your new one. "Your Right to Be Beautiful" also deals with such subjects as detoxification. You will find out which foods should be excluded from your diet and why. In summary, you will learn from this book the 'why's of being raw and what health benefits you can gain from it. To top it off, the book contains a healthy dose of encouragement.
The next book to familiarize yourself with is "Beautiful on Raw: Uncooked Creations". Once you have made the decision to embark on the raw food diet, you will need some recipes, ideas and inspiration. It is very hard to dismiss particular foods from your life, especially if you enjoy eating and engage in it not only for nutrition, but for emotional satisfaction as well . This book will offer you a healthful alternative! You can choose from 100 satisfying recipes, all the while staying on the raw food diet. Isn't it wonderful to eat tasty yet healthful food? Raw food is not only good for you because it has vitamins and minerals, but it also consists of enzymes which work as catalysts for all bodily functions. When you begin to eat raw food and drink raw vegetables juices and green smoothies, you flood your body with life-giving, health enhancing enzymes which work like magic to start the cleansing and healing process and improve digestion. You activate your body's rejuvenating ability which in turn significantly improves your health and your look!
 
What are the first steps you should take toward your new way of life? How do you actually shift to the raw foods diet and lifestyle? What should your daily menu look like? The answer to these questions can be found in the book "100 Days to 100% Raw." This book describes very easy but effective steps to escort you down the raw food path. I want you not only to try, but to stay raw, and to continue experiencing the effectiveness of the raw food diet for the rest of your life! With the aid of this guide, it will be more likely that you will not quit your transition when detox symptoms or family comments try to bring you down.
 
Do you want scientific evidence that the raw food diet really works? Would you like to learn in detail about the processes that go on in your body? Do you want to obtain the maximum health benefits that you can from the raw food diet and lifestyle? Open "Quantum Eating" to discover the answers to these questions and many more. This book is based on modern scientific research and provides you with indepth knowledge to take you to a whole new level of health. "Quantum Eating" is a book that you will want to read again and again. This book is meant for those already familiar with the raw food diet and want to take their practice to the next level. Ideas such as dry fasting and circadean rhythms are discussed in detail.
Health is a holistic system which consists of many elements that are interdependent. You cannot possibly attain the radiant health you seek if you do not make fundamental changes in your lifestyle. Illness and disease are the price you pay for breaking the natural laws that our bodies are designed to follow. The sooner you begin making positive changes, the faster you will reap the rewards in your appearance and your general state of health. If you want to see improvements in your health you must shift to the raw foods diet. Just make the decision and I will help you to succeed. There is nothing to fear. It may be difficult at times, but you can be sure that you will have my support whenever you need it. Think about where you will be in a few years if you don't make any changes. The raw food lifestyle can help you prevent this. Being Rawsome means being youthful, beautiful and healthy!