Anti-Aging Practices for Your Skin and Body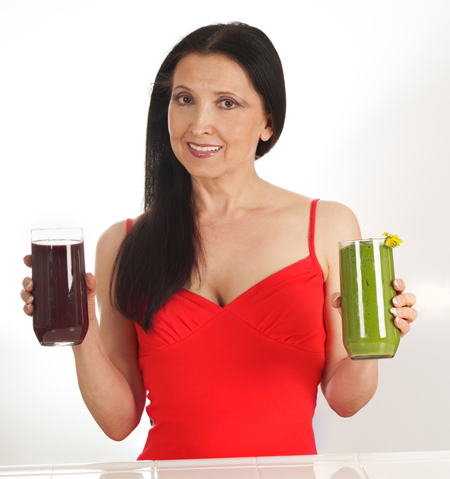 The aging process can be reversed. I am very enthused about presenting to you a way of life that will play an integral part in keeping you healthy and young. One of the most attractive things about adopting the raw food diet and lifestyle is that you don't have to make huge sacrifices to achieve the appearance and health you want. 
Being Rawsome means being in harmony with nature, which has already provided you with everything you need. You simply have to take advantage of it. Nothing more. It almost sounds too good to be true. Yet, seeing is believing. And the results are astonishing.... amazing....stunning!
To find out more about the raw food lifestyle, become acquainted with my first book "Your Right to Be Beautiful: Miracle of Raw Foods". You will see that anti-aging is not just about what you do externally.Your dietary habits greatly affect the state of your skin. Certain food keeps you healthy, but a number of other factors can damage your health, and aging is one of the most visible results. To start the clock ticking backward, you have to adopt a totally different diet - the raw food diet. "Your Right to Be Beautiful: Miracle of Raw Foods" will explain to you the changes that will occur in your body once you switch to raw foods. Your skin, your overall health and appearance, and your muscle tone - everything will change for better! You will feel a burst of vital energy from the inside out. Learn more about Your Right to Be Beautiful: Miracle of Raw Foods.
Do you feel intimidated by all of your new food choices? Now that you understand how essential it is to eat correctly, you will no doubt need some creative ideas and help in deciding how to incorporate specific kinds of foods into your diet. Your menu should be balanced and diverse. With "Beautiful on Raw: Uncooked Creations" you will be able to eat delicious raw food and reap the benefits. You can enjoy a healthy alternative to the kinds of meals that you are used to: soups, salads, lasagna, cakes and even ice-cream! "Beautiful on Raw: Uncooked Creations" is your new guide to un-cooking! Learn more about Beautiful on Raw: Uncooked Creations.
To make preparing your new raw food recipes as easy as possible, you will not want to be without the versatile superblender known as the Vita-Mix. Learn more about the Vita-Mix.
Making sudden changes may be harmful as well as uncomfortable. You might know that it is worth the effort, but still find it hard to fully make the transition to your new way of life. "100 Days to 100% Raw was created to overcome your difficulties. It effectively walks you through all of the necessary steps of transitioning to the raw food lifestyle. The program focuses on providing resources for those who are just beginning to make health changes, as well as those who already have a health routine and are looking to expand their options. The more gradually you make the necessary changes, the more reliable and consistent the results will be. Learn more about 100 Days to 100% Raw.
Once you are there, you will want to move on to "Quantum Eating" to discover more of the anti-aging benefits of the raw food lifestyle. Within the pages of "Quantum Eating" you will find answers about health and aging which have baffled thinkers and scientists for centuries, answered in clear, straight talk mingled with attainability and hope. Also, it touches upon the importance of physical exercise in your life. Winning the war against aging means staying physically active and fit. "Quantum Eating" opens up new avenues to staying young, beautiful and attractive. You will learn about calories and the amount of them needed per day. You will find out why it is essential to restrict caloric intake as you become older. "Quantum Eating" is a precious gift in your struggle against time. 
Learn more about Quantum Eating: The Ultimate Elixir of Youth.
I have mentioned the importance of physical exercise, but I want to emphasize it once more. While training your facial muscles as well, you allow them to stay toned and young. "Rawsome Flex: Beautifying System of Facial Exercises and Raw Foods" will become your personal trainer. It will introduce you to an effective exercise regimen that will give you optimal results. You will not only maintain your youthful look as time goes by, but will be able to attain the ideal you long for.  Learn more about Rawsome Flex: Beautifying System of Facial Exercises and Raw Foods .
With all of these tools at your disposal, you will be the winner in the war against aging. You will be well equipped for any difficulties that lie ahead and prepared to overcome them. No matter how old you are now – 20 or 50, it is never too late to reverse the clock. All you need is a keen desire, commitment, and someone willing and able to take your hand and guide you down the path to your new life. You have nothing to fear: begin taking the necessary steps to long-lived beauty!