Return Policy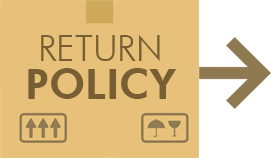 It's a firm policy—I sell only products I use personally. Products that have helped me, for example, enjoy an unwrinkled, glowing complexion and full hair, even in my 60s.
These products have been tested through many years of regular use. But they are not miracle products! They take diligence and consistent usage. And, as with any natural practice, you might even find things get a little worse before they get better. You have, in any event, our 30-day guarantee. 
Due to the unique nature of this business and related matters of hygiene and safety, we cannot allow certain items to be returned: Combs, brushes, Pore Cleansing PetalPads, RejuvaCup, RejuvaCup HD.  Sales of such products are final. E-books are non-refundable.
Return Policy for the High Frequency Ray/ Violet Ray: There is a $40 restocking fee. Contact us for a return authorization number.
If you are for any reason not totally satisfied, you can return any eligible for return product to the address below for a full refund—less the cost of shipping. The customer is responsible for the return shipping cost.  All returns of eligible products must be initiated within 30 days after the product delivery.
Please include a note with the following information:
 *The name associated with your billing info
 *Your order number, or the date of purchase (for orders placed over the phone)
 *If you paid with PayPal - the email connected to the PayPal account
Ship to this address: 
Beautiful On Raw   P.O.Box 276  Orangevale  CA 95662
Once we receive the returned item, our support team will process your refund. It typically takes 3-5 business days for the refund to show in your account once it is processed. If you have any questions, please Contact Us and our support team will get back to you.
IMPORTANT: If you've made a purchase of our many special deals, or as part of a FREE product promotion, keep in mind the product is FREE only if your total equals or exceeds a certain amount. Should you return some product you purchased as part of a package deal and your return lowers your total cost below the minimum, please understand you'll be charged at full LIST price for the products you've kept.
Thanks!