High Frequency…Violet Ray
It's called the Violet Ray, the high frequency device. It was originally developed by a famous scientist, Nikola Tesla, in the late 1800's.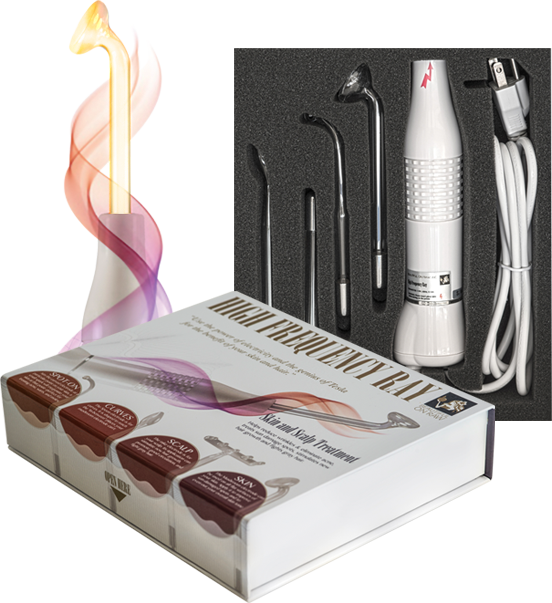 The Violet Ray uses high frequency current to stimulate the body's natural processes. Its application improves blood circulation. Blood flow is directly connected to tissue metabolic activity in most organs, including your skin. Enhanced metabolic mechanism ensures that the skin cells receive enough oxygen and nutrients and waste products are promptly removed.

The High Frequency Ray
uses an inert gas (either Argon or Neon) inside the electrodes. Argon glows a violet/blue color, which is why the inventor Nikola Tesla originally named the device- the Violet Ray. However, neon works exactly the same way, yet it glows an orange/red color. Your unit will arrive with either violet or orange glowing electrodes. The gas is there only to notify you that the unit is working properly and the choice of gas has no bearing on the effectiveness of the unit.

Electrodes
---
The unit comes with four glass electrodes - the Mushroom, the Rake, the Curved and the Spoon. The Mushroom and the Spoon electrodes are used to apply anywhere on the skin surface. The Rake is used on the scalp for hair growth, promoting circulation, and halting hair loss. The Curved electrode is used for zapping acne, warts, moles, and blackheads.
The High Frequency Ray is totally safe to use. In nature the sun turns oxygen into ozone. In the Violet Ray, this is done though a high-frequency (10,000-hertz), high voltage, low-current electrical source. You'll find that the current produces an agreeable tingling on your skin's surface as it increases oxygenation in the form of Ozone (O3) in the blood.
How to Use Violet Ray?
Just 5-10 minutes each time, once or twice a day, will give you all the benefit. Please always start at the lowest setting! Your Violet Ray will require no maintenance. Just remove the electrode when you've finished your short session, unplug your Violet Ray and - you're done! It needs some time to cool down after each 10-minute use.


The regular sessions with this high frequency device increase collagen and elastin production, the very processes that are needed to keep our skin youthful. Not only that, but the high frequency current produces thermal effect that kills germs and pathological bacteria that live on our skin.

I have been following you for about 10 years, but have been too lazy to consistently use your products, tools and techniques. However, age 70 showed up and I got serious…. Hence, I rummaged through my cabinet and found The Violet Ray that I purchased in 2014! I began the following routine on June 9, 2020: Violet Ray 5 minutes am & pm on face. Violet Ray 5 minutes in the evening on my hair. AM after Violet Ray, I use your suction cup on my face 2 minutes. PM after Violet Ray, I use the Stirgil on my face 2 minutes.

Results in 4 months. My husband and I can't quite put our finger on it, except to say that my face looks "better" - these are the takeaways: My previously ruddy complexion is now creamy - I use almost no foundation anymore. My pores have apparently tightened. My skin is tighter, firmer. A bump I have had for decades on my face is almost gone. My skin, that had become rough, is now smooth as a baby's, which delights me.

My husband says I look 40 and my niece just asked if I use Botox! I am thrilled with the results but there is more work to do… I am 100% on board - will be switching over to all of your products as I run out of my current supplies. Thank you for your dedication and for generously sharing your work with all of us!
— PAT W.
Avoid Skin Blemishes of All Sorts with High Frequency Ray