Peach Wood Combs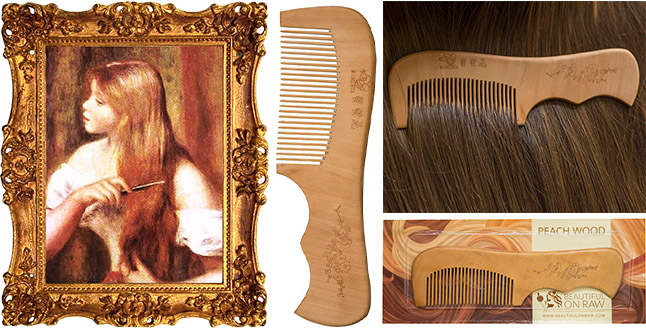 My son has been living in China for 6 years. He brought me a present—of all things, a peach wood comb!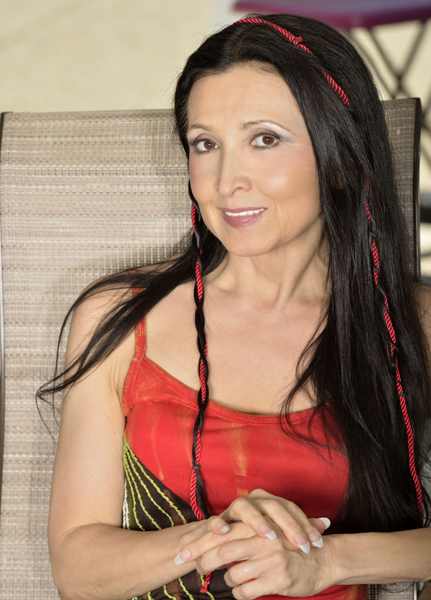 It was natural, beautiful, and combing with it felt so good, I did my 100 daily strokes in complete enjoyment. My hair looked sleek and shiny. I love the comb so much I want you to have it too!
Extremely popular in China, this remarkable wooden comb might just be one of the reasons for the legendary shine and strength of Asian women's hair.
These combs are a symbol of cultural pride and are of a highest quality. More than twenty hand processes bring these natural elements from their raw state to the finely finished product.
The Chinese have used similar wooden combs for thousands of years. Combing with them has been prescribed for purposes ranging from insomnia and dizziness to alopecia, rheumatism to reversing gray hair. As always with "folk" tools and remedies, and since I am not a physician, I cannot comment medically. But I can definitively say... Using the wooden comb regularly makes my scalp feel invigorated and helps me sleep more soundly.
The comb is wonderful - I have fine hair and in Canada right now the weather can play havoc with static, so the comb is perfect!
— Anna
The comb's teeth are smooth, clean and delicately shaped. Treated with high temperature and high pressure to help retain the natural luster of the wood, this finely crafted comb will not pull your hair nor scratch your scalp. And, because it's made of all-natural wood products - no chemical plastics here! - your peach wood comb will spell the end to static-electricity frizz!
Your new comb is designed to better stimulate your acupressure points, massaging your capillaries and speeding up circulation around the scalp, leading to stronger, fuller hair growth.
Dear Tonya, your wonderful package came with lightning speed. Thanks so much. I love the wooden comb too. It has a great design that acknowledges the head and hand are round. Most conventional combs are designed as if these body parts were square. The wood is so pleasant too. And now, I have more hair to comb thanks to the scalp tonic. Best,
— J.
My book Your Right to Be Beautiful recommends brushing your hair 100 times daily for a healthier scalp and fuller hair. As you do this, your scalp's natural oils will spread over your hair, adding shine and strength. The plastic or metal bristles of regular brushes and combs can make your scalp feel sensitive. But with your new wooden comb - no problem! You'll love this comb more than any other comb or brush you've used. You may never use a plastic comb or bristle brush again!
Use this comb before every application of the Scalp Tonic to benefit from this treatment's nutrients the most. Let us feed your roots to grow healthy hair.
For keeping things natural, there is a price: Natural products are more vulnerable to heat, air and light. But no worries - all you need to do is protect the comb from excessive humidity as well as bending. Keep your comb dry. Do not use when your hair is wet.
If you do happen to leave your comb in a humid environment for a week or longer, you may notice it will bow or warp. Again... not a problem! Simply heat your comb with a hair dryer, then press flat with a book or other heavy object. Best idea... store your comb in a drawer.
The comb is my gift to you
The comb is my gift to you with the purchase of 2 bottles of Your Right to Be Beautiful Scalp Tonic with Cayenne Pepper & Mustard Green Extracts. A good deal to begin with - now made even better with the most amazing comb you'll ever own! This special deal is available now at my store.
You may also purchase the comb by itself here...