Book: Your Right to Be Beautiful
The Miracle of Raw Foods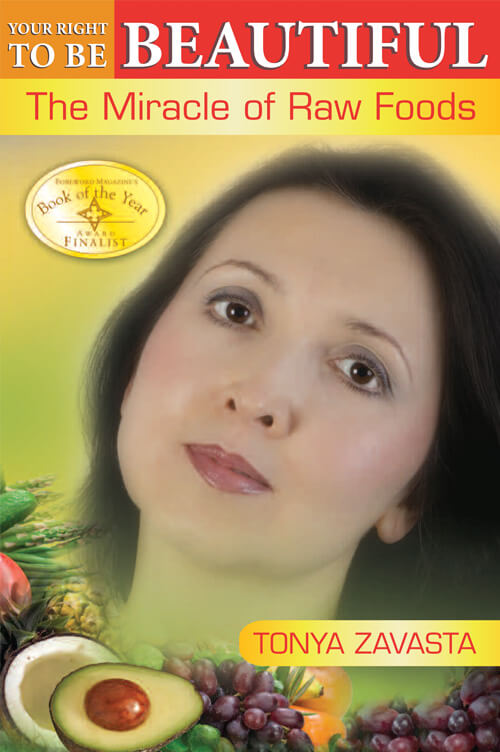 It is biologically possible to look beautiful at any age. This book contains revolutionary ideas that will help you to reveal this latent beauty. Your newly discovered loveliness will surprise and delight you. Those who know you will remark on the positive change in your appearance.
Would you like to:
Learn to adopt a lifestyle that can take you to the pinnacle of health and realize your beauty potential?
Boost your self-confidence and self-esteem as the result of a greatly improved appearance?
Gain the advantages that attractiveness brings to your relationships with others?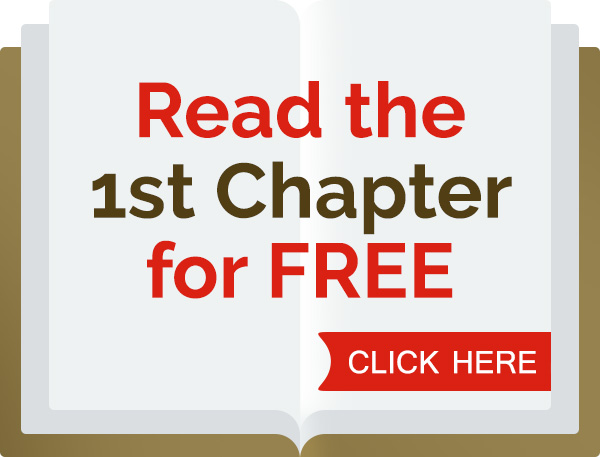 I wanted to tell you THANK YOU! Your book Your Right To Be Beautiful was the most informative book I have ever read on health and aging. I just happend to be in the health food store and picked it up. I have always been interested in health and aging and have often wondered why people age the way the do. Your book explains it all! Thank YOU! Your book was so honest and upfront. I loved it! Not only that, but before reading this book I really thought I was eating correctly. MAN WAS I WRONG! I WAS SHOCKED!
— Mira Jackson
I am about 1/3 of the way through your book "Your Right To Be Beautiful" and read it as often as I can. Not to flatter you but it has been one of the best books on health that I have ever read and I have been studying health for over 20 years. Paul Bragg is one of my favorites and you are right up there with him. Keep up the good work!!
— Mark Biggerstaff
Though you may have thought that you didn't pull "beautiful" in the gene lottery, you'll learn that beauty is not an accident; it can be yours through making right daily choices. Your Right To Be Beautiful shows you how to cultivate your natural beauty, which is your birthright — without expensive products, cosmetic surgery or advice from costly consultants. Would you like to:
Learn to adopt a lifestyle that can take you to the pinnacle of health and realize your beauty potential?
Boost your self-confidence and self-esteem as a result of a greatly improved appearance?
Gain the advantages that attractiveness brings to your relationships with others?
In this book Tonya leads by her shining example to empower you to take responsibility for your own appearance and health. Placed by a physical disability in a disadvantaged position, Tonya was nevertheless able to fulfill her long-cherished dream of becoming beautiful despite adversity and being over the age of 40. Inside these pages, you'll find a little-known secret on how to become beautiful.
I just finished reading your book "Your Right To Be Beautiful" and want to thank you so much for putting together such a wonderful and amazing testament to the raw lifestyle. Your book gave me many answers I was searching for; especially, it gave me great tools to defend my choice.
— Romana Volny
News Release
April 2004
The Raw Food Lifestyle was Brought to the Forefront as "Your Right to Be Beautiful" was named a Finalist for Book of the Year Awards!
BR Publishing [now BEAUTIFUL ON RAW, INC] is pleased to announce that Your Right to Be Beautiful (ISBN: 097424340X, 352 pages) is a 2004 Health Book of the Year Award finalist for ForeWord Magazine's annual contest. Award winners will be announced at this year's BookExpo America in June.
Six years ago, ForeWord Magazine's Book of the Year Awards was established to bring increased attention to the literary achievements of independent presses and authors. A jury of librarians, booksellers, industry professionals and reviewers judged the books. They select finalists based on editorial excellence, originality of subject matter, accuracy, author credentials, and professional packaging. This is the first time a book on the raw food lifestyle has been recognized by the judges.
Dear Tonya, I love your first book soooooo much, that I don't even know where to begin! I just ordered your second book a few minutes ago, and I ordered both books for a friend! I will be ordering a lot more of your books in the future for friends and family.
I am spreading the word, about you and your book like crazy! I am so excited about the Rawsome lifestyle that I just don't know what to do! I threw out every pot, every pan, and every piece of cooked, canned or processed food out of my house!
You are extremely intellegent, and the things that you said made so much sense. I've been doing my own research even before I read your book, and what you say confirms a lot of what I've been reading! That's why I'm so sold on it!
You actually offer more in just one book than most of the authors cover in several books. And for that, I am sooooo grateful!
I am so happy that you are exposing the TRUTH, that I e-mailed Oprah concerning you! And I will keep e-mailing her, until your book is on her bookclub list! I believe in it just that much already, and I KNOW that this lifestyle will only make me better in every sense! 
— Kendra Wilhoite
Tonya Zavasta, author of Your Right to Be Beautiful: "It is a great honor to have ForeWord Magazine's selection committee include Your Right to Be Beautiful in the finalists. I see this recognition of my work as a small step toward a giant leap in accepting the raw food diet not as eccentric behavior but as a viable lifestyle. I'm delighted to be included in the health books category along with medical professionals. It's a great feeling for your book to be acknowledged as exceptional in independent press awards."
There is no natural beauty without 100% natural food. The lack of beauty, especially in so many people over forty, is most often the result of the consumption of devitalized and denatured foods. Cooked food depletes the body's enzyme reserves and damages its rejuvenating power. On the hand, the Rawsome diet of fruits, vegetables, nuts, and seeds in their raw state will help your body to make the most of its revitalizing abilities. By restoring the integrity of every cell and by facilitating the operation of every organ, it will bring your weight to its ideal mark, refine your features and add delicacy to your face. The book introduces women to the unexplored world of the raw food lifestyle through preparation techniques that create nutritious meals that are delicious, filling and satisfying.
I founded Beautiful on Raw to explore the potentials in personal transformation. My first book, Your Right to Be Beautiful: Miracle of Raw Foods, offers a revolutionary solution to our rapidly aging society on how to restore health, regain youthfulness and reclaim physical attractiveness.
You may purchase your copy of Your Right to Be Beautiful in our Online Beauty Store.
Thank you for your encouragement. I LOVE YOUR BOOK and deep down inside I am sooooo excited because I know you are for real.
— Jann Stewart-Joyce
The Best Reviews: 
"Author Tonya Zavasta is extremely knowledgeable about the health industry. She has done her research and has strong arguments and scientific facts to back up her claims. Even the most cynical reader will have to agree that she makes some very valid points." 
The Midwest Book Review: 
"Your Right To Be Beautiful" by Tonya Zavasta is a compendium of health beauty secrets written especially for women as they approach and cross the threshold of age 40. Individual chapters expertly address dietary concerns, procedures for smoothing wrinkles, the value of self-confidence and self-esteem, and the importance of cultivating one's natural beauty without relying on expensive products. Your Right To Be Beautiful is an excellent and recommended guide to bringing out any woman's latent potentials and to enhance any woman's physical health and personal beauty."
ForeWord Reviews: 
"Beauty has healed Zavasta. Anyone any age can experience natural beauty. If the reader is ready for a regime that asks for diligence and patience, the author proves that they, too, will see undeniable beauty reflected in the mirror."
Beauty Redefined
Reviewer: Doug Zeager (Elizabethtown, PA USA) 
I recently read Tonya's book on a ski trip to VAIL. I was impressed with the explanation regarding God's original diet and environment until now. I also enjoyed the chapter," Exercise It", as I am in the process of setting up a free-weight gym at my home. Exercise and 100% raw food helped me attain my most recent flight certificate, the ATP (Airline Transport Pilot). I have read many books on nutrition, and have been let down many times, but this book is not only well researched and accurate but speaks directly to the heart. Thanks Tonya.
You are doing a Miracle on me
Reviewer: Helen Nadeau "Padmaja" (Quebec, Canada)
Dear Tonya, All my life I have been looking for a change. I have prayed all my life to receive help. I am now 52 years old. Like you I was so low in confidence and I was brainwashed as if this was supposed to be like this for ever. But now: Your right to be Beautiful is opening my eyes and opening my hope incredibly. You are beautiful Tonya ... You are changing my life ... You are doing a Miracle on me. And in your book, you are the "Proof" that it is possible. I am so happy; I now explode with passion as you do. I will never thank you enough. I am so grateful.
Your Right to Be Beautiful by Tonya Zavasta
Reviewer: Nancy Zi "Z Woman" (Carbondale, Colorado) 
I loved this book! Reading it for the second time! Tonya presents a very interesting angle on beauty and she has been very inspiring for me. Thank you, Tonya! Z Woman!
An inspirational work for raw foodists
Reviewer: Irina M. Dionne (Orlando FL)
This is a wonderful book and is very well written. It has encouraged me to use much more raw food in my family's diet. We have been vegan for 12 years and are now making the transition to a totally raw lifestyle. It is very difficult for me especially with children, but they are doing well. The beauty recipes are effective and unique. Thank you for sharing your story.
This book works! 
Reviewer: E. Young "baker55" (CALIFORNIA)
I purchased this book about 6 months ago. The book is a great and informative read. This is the type of advice we are all looking to find. Since I have begun to follow the information in this book I look so much better. My skin is dewy. I receive compliments almost daily. Do yourself a favor and buy this book.
The most inspiring book I have ever read!
Reviewer: Yelena Zhabskaya (New Jersey, USA)
Actually I was reading this book with a pen and paper in my hand making notes and after I finished the book I had a long list of things which I already started incorporating into my life and I can already see positive changes in my appearance!!! Tonya's advice is invaluable; her recommendations are sound and effective; unlike many others she doesn't offer any temporary superficial quick fixes that don't last, the solution that she offers gives permanent results because she found the cause! I am sure you will start seeing results in less than a week if you follow Tonya's advice; you will be amazed at the transformation you'll have gone through if you do what she recommends - your face will look so much younger as if you got a face-lift, you will become your natural weight and fat and inches will disappear in all the right places, and you will also feel 20 years younger, full of energy with no aches, pains or tiredness. It will be a total body, mind and soul makeover; you owe it to yourself to read this book!!!
No Raw Foods book like this one! 
Reviewer: Brenda Antos "Negal" (Redmond, WA USA)
I got this book yesterday and could not put it down! There isn't another book out there like this one. It's Intelligent, honest and so encouraging! Her loving support and honesty pours of the pages and in to your heart and mind. It's a shame there is only 5 stars, this book is a 10!
Absolutely the best! 
Reviewer: Stick-lady (Chicago)
Thank you Tonya for generosity, inspiration, and beauty secrets that work!
ONE OF THE BEST BOOKS ON THE RAW DIET THAT I HAVE READ!!! 
Reviewer: Sherri Swartz-Luehmann (Dayton, OH USA) 
Your Right to Be Beautiful is one of the best books on the raw diet that I have read. This book is extremely well researched and well written. I have read many different books on the raw foods diet and many times the authors are a little too far out for me. Tonya's book is very common sense, down to earth, and straight forward. I would highly recommend it.
Help for menopause
Reviewer: Gabriella Bollobas (Zurich, Europe)
I admire this book very much because it makes me understand a lot of things that though I had knowledge of before I could not apply myself. I did not see all the facts together, I did not see correctly what the different kind of foods and chemicals do to ones body. The book came to me at the time of my life when I was struggling with the menopause and it gave me the greatest help regarding the symptoms of the menopause at last. I started the raw food diet as soon as I finished reading the book at first. I always read it just to keep and know its guidelines. It is a wonderful help that it instructs you how to get started. It also encourages you to be slow in absorbing the whole diet. It tells you how much 'Body knows best', so teaches you listen to your own feelings and adjust it to your own body requirements.
I loved in it that it had an immediate effect on me, following its suggestions. Everything that it said so far turned out to be true in my case. I love that the book is very thorough, very well thought out of and takes time to explain everything accurately.
A very important feature of the book that it wants us to realize that health itself is beauty. To live healthily is the best aid for being beautiful. I love its humor, its common sense approaches, and all the explanations about what the raw food diet does to different organs in our body. Prior to this book I was a follower of the book of Dr. Ulrich Strunz, who tells one about so many important vitamins and minerals to use but does not tell how to use it, how to start it, and I felt I got lost in the many suggestions he gave though his was the best help before Ms Zavasta's book.
This book helped me to turn myself around. I am on the diet for 6 months now and I am doing still only 75% because I still eat some cheese and soups, but giving up bread, milk and meat gave me a light completion, my joints are pain free and my back and my feet stopped aching lately as well. This is an incredible idea, and by Ms Zavasta's book believable, because she had some terrible ordeal in her life I feel I will be well again by her suggestions and then I will be wanting to be the most beautiful of myself at my age (60)as well. In practice, I see day by day the beneficial effect of the diet, I am feeling better and getting back to my original shape and I am not dieting now but decided to live by its guidelines. I hope the recipe book will follow soon and I will be able to buy it through Amazon.com. This book should be translated into German, because many people would benefit from it here as well.
A MUST BOOK1 
Reviewer: MRS CMAB STURGESS (Bucks, England)
This book is wonderful, and a real tonic for anyone who doesn't want to accept that ageing is inevitable. Tonya gives the reader real hope on every page. By simply changing to a raw food lifestyle you can experience amazing changes to your face and body, just as Tonya has, who looks fabulous. I've read other books on the raw food lifestyle, and many talk about endless supplements and herbs you have to buy to achieve results. Tonya, on the other hand, doesn't use any supplements. Just natural wholesome food that nature has provided. She has proved that you don't need to spend a fortune to look amazing. I've been following the raw diet for 3 months now and already love it, and have noticed positive improvements in my appearance. Tonya says it takes about a year for the body to cleanse itself completely, and that is around the time when you can look forward to meeting the most beautiful you, and achieve optimum health. Tonya explains everything in detail, and the science behind it all, and it all makes such sense. This book is a real inspiration, especially for those, like me, who are over 40, and had given up hope of ever looking good again. Following Tonya's example, I too can look forward to looking the absolute best I can be, and that is the best tonic ever! Thanks so much Tonya for writing this book and I look forward to devouring your next book.
Your Right to Be Beautiful is a great book.
Reviewer: A reader
I loved this book and would recommend it to anyone who is interested in pursuing the raw food lifestyle. Tonya was always a beautiful person; however, as you will see in her book, she became younger looking and more beautiful when she changed her diet to raw foods. What I liked about Tonya's message is that you change the whole being - both the inside and the outside. She herself first became a vegetarian, then a vegan and lastly, she transitioned to the raw food only lifestyle. I had read many articles on the raw food lifestyle, but it was her book that has convinced me that is the lifestyle I want to pursue. I want to live a long and healthy life, but why not become younger looking too. What a blessing this book and Tonya have been to my life. Please get her book. She gives great advice and makes you feel like she is with you on this journey.
I encourage all women to read this book. 
Reviewer: Emily D Edwards (Wichita, KS United States)
I am 21 years old. I have suffered from acne, low energy, you name it, and I just didn't feel good about the way I looked. I was surfing the Internet one day and something just lead me to Tonya Zavasta's Website. I think that was the day my life changed because being 21 years old watching MTV, extreme makeover, and people my age getting Plastic Surgery you feel that is the only solution to your problems. I ordered this book and all my hope was renewed. In Tonya Zavasta's book she tells you why you should omit certain foods and why the raw diet is the perfect diet. She explains everything and it all just all makes perfect sense. I have just started the raw diet which I plan to carry on for the rest of my life and I have also seen results this early on. I have heavy upper eyelid skin; a week after I went raw my eyes look much bigger when I wake up in the morning my eyes aren't puffy at all and my skin isn't a sickly pale that it once was and I use to hate looking at myself in the morning but now I can bare to look in the mirror at 7am. I go to college and people were telling me that my skin looked great and although I know a person's opinion shouldn't mean that much but it just seemed like people are very friendly to me now that I look healthier and prettier (vain I know but nevertheless true). I smile alot more I think my serotonin levels have just begun to balance out; the body truly knows best. People this diet truly works and I can't wait until it's been a year and I have detoxed totally so as Tonya say's I will truly see my most beautiful me. Get this book!
The book you must read if you want to be healthy! 
Reviewer: Sharon Holmes, L.P.N. (Memphis,TN) 
I could not put this book down once I started reading it. I found this book easy to read. Tonya does a very good job of explaining how food affects us on the molecular level in laymen's terms. This book holds the answers to many health problems that people have. I am a nurse of 23 years (geriatric nursing is my specialty). I have seen what the Standard American Diet does to people over a span of time. The title and the cover caught my eye. Added note here, I recently met Tonya at a health food store in Memphis,TN. I must say that in my 23 years of nursing, I have never seen such glowing health in an adult such as Tonya! Her skin is smooth, so clear and so very transparent. There was no need for makeup. Her hair has a beautiful shine. Tonya practices what she preaches! She looked just like her picture on the cover of this book, only better in real life.
Your Right To Be Beautiful 
Reviewer: Thomas R. Cross (Loveland, Colorado USA)
In "Your Right To Be Beautiful", Tonya has done an excellent job of giving me vital information but keeping it simple, with enough clarity, that I can slow down my aging and have that youthful and vibrant appearance that I desire. Tonya is living proof that what she has written in her book works. I'm encouraged that if I apply the principles that she shares that I CAN be beautiful too.
Beauty and Natural Health Secrets Revealed 
Reviewer: B. Nelson "Book Reviewer" (Del Rio, Texas United States)
The entire gamut of both inner and outer beauty and health secrets are discussed in detail providing fresh insight for anyone interested in looking and feeling great. The subtitle states the theme: "How To Halt the Train of Aging & Meet the Most Beautiful You." And if that isn't all, this must-have book contains recipes, a raw food diet, suggested life-style changes, identifies toxins and dead food, provides cosmetic advice, list sources, and more. A must-read work with creditable research, humor, and revealing examples.
Your Right to be Beautiful 
Reviewer: "Janet Durham" (Memphis, TN)
This is a MUST read for someone wanting to take care of their body naturally and slow the effects of aging! It's loaded with easy to understand information vital to taking care of your body the very best way - all raw. If you are searching for a raw food book to explain the benefits and rewards of living raw, I would definitely recommend "Your Right to be Beautiful". I am especially enjoying the beauty tips in the chapter "Daily Aid in Your Beauty Crusade" and loving the recipes in "Recipes For the Most Beautiful You" As is clear in Tonya's book, take care of the body God gave you, it was wonderfully and miraculously made!
Great Book 
Reviewer: Cindy "cybarren" (New York)
Tonya's book will inspire the reader to stay 100% raw. The recipes are very easy and delicious. There is also a chart to use to help erase winkles along with other advice on how to stop the clock of aging. I can't wait for her next book to be published.
What a wonderful book! 
Reviewer: Ia Zagvazdina (Hollywood, FL)
Your Right To Be Beautiful is an inspiring gift not only for women but for all of your friends. The language is amazing. It is written with a great sense of humor. You will not believe it is written by someone for whom English is not her native language. This is also a very thorough work for someone with degrees in mathematics and engineering who is not a healthcare professional. This book's premise is something we all need, especially with the current obesity epidemic. From the time I first started reading, I began to think about a new lifestyle. I myself immediately started making juices. It is also important for mothers to emphasize proper nourishment with abundant fruits and vegetables and freshly squeezed juices. As someone who has known Tonya for many years, I witnessed firsthand the inspiring magic change in her. As a physician, however, I was deeply hurt by Tonya's negative feelings and thoughts towards my colleagues (do we deserve it?) That said, I cannot wait until the next book Beautiful On Raw is available.
The book is a jewel among beauty books. 
Reviewer: A reader
Your Right to Be Beautiful gave me a blueprint for achieving a concrete goal in finding health and beauty for myself. It is written with clarity and sincerity. It touched my soul, challenged my mind, and raised my spirit. I was informed, inspired and entertained. As the result of the book's influence, I am already introducing the suggested alternatives into my lifestyle.
THE REAL DEAL
Reviewer: Susan C. Fincher (Memphis, TN) 
Whether you are new to the idea of eating a raw food diet, or you are very familiar with it but need additional inspiration, or if you are looking for information to help you bring out your most beautiful self, THIS IS THE BOOK FOR YOU. I had already read about ten books promoting a 100% raw diet, but as a woman always interested in trying to take good care of my appearance, this book really jumped off the shelf at me. Tonya has an attitude; we have a "right" to be beautiful. I like that attitude. It is the right to be the very best we personally can be in terms of our skin, our hair, our figure, and every other good attribute that comes from a genuinely healthy body.
You can get by with a poor diet for a long time when you are young. As long as you don't eat so much you become overweight, or bake you skin in the sun so much you start to dry up early, or suffer from serious acne, youth is kind to most people. Not so middle age and later. Now nature starts to get very tired of the abuse of a poor diet and other poor health habits, and when nature gets mad - you're going to feel it and you're going to see it in the mirror. Ouch. But there is hope. It won't be easy and it won't be fast, but it will be the real deal, for no lotion or potion or doctor's office has to offer what Tonya has to offer if you are willing to follow her recommendations - your most beautiful self based on true health. It's the beauty program for your insides as well as your outsides.
Having read about 100 books on nutrition, I can tell you that Tonya Zavasta knows her stuff, and she communicates it in a way that is both informative and highly enjoyable to read. I liked it so much, I'm reading it again.
If you are a man who really isn't that concerned with appearances, don't ignore this book. A small part of it will not be for you, but the health information most definitely will be. Remember, Tonya is not focusing on the usual beauty tips, this is the beauty of health and it is for everyone. 
I've met Tonya. She's more beautiful in person. No air brushed pictures needed. She's the real deal.
Hello! I have ordered your book Miracle of Raw Foods in Russian! Thank you. I have seen 1.5 year ago your roller the first time and prayed you could possibly translate [the books] into Russian! I am very glad that it has occurred! By mail for 7 days I have received the book from publishing house "Peter"! I very much love you, thankful that you are inspiring us on beauty and health!
Yours faithfully, M. S., the director of the Educational center "Beauty Light", the Russian Federation