Send Us a Message
Before emailing, please check out our FAQs page. It's very likely you may find your answer there!

If you have a question about your order, please select "Order related"
If you have a product related question, please select "Product related"
If you have a general interest question, that has not been addressed on my website, please select "For Tonya"
If you have a privacy/personal data related question or request that is not addressed in our Privacy Policy, please select "Personal Data"
---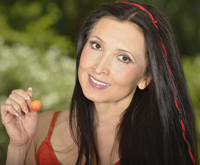 IMPORTANT: 
Questions of a medical nature—those that mention a particular disease or illness (rosacea, hyperthyroidism, or diabetes, for example) or name an observable problem (such as redness, weakness, inflammation, etc.)—will not be answered. I am not qualified. I'm not a doctor or a medical practitioner of any kind, and don't pretend to be.
HOW MY WEBSITE CAN HELP: 
Using the search feature at the top of any page of this site (www.BeautifulOnRaw.com), query what concerns you. You'll typically find some interesting ideas that you may find helpful.
MY BOOKS: 
Likely you'll find your answer there. I've written 10 books so far. Each one offers important insight on how to achieve health and beauty benefits 100% naturally.
However, know that by choosing a natural pathway to health and beauty, you're entirely on your own.
~ Tonya Zavasta