December 2011 Rawsome Recipes!
December 10th, 2011
December 2011 Rawsome Recipes!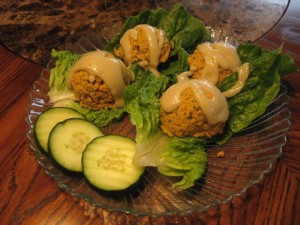 Hang on to your stocking caps, because December doesn't disappoint when it comes to delicious raw produce to keep you creative and satisfied all month. There are a surprising number of fruits available in December including persimmons, tangerines, grapefruit and pomegranates. You will also find an assortment of nuts and of course, the omnipresent and omni-important leafy greens.
Carrot Falafel Wraps with Sweet Tahini Dressing
(recipe and photo by Kelli Haines)
These wraps come together in a matter of minutes, and these falafel won't weigh you down and make you feel awful
Ingredients:
2 cups of fresh carrot pulp, leftover from making carrot juice
1 cup of sesame seeds, freshly ground (coffee grinder works great for this)
½ cup parsley, chopped
½ cup cilantro, chopped
1 Tablespoon flax or chia seeds
1 tsp. sea salt (optional)
2 Tablespoons fresh lemon juice
¼ cup chopped onion
1 clove garlic, minced
dash of cumin
Large, flat Romaine lettuce leaves
Blend everything except lettuce thoroughly in a food processor until the mixture holds together and can be shaped into balls. Using an ice cream scoop, form into balls and place atop Romaine lettuce leaves. Drizzle with the following dressing:
2 Tablespoons raw tahini
1 Tablespoon raw honey
2 Tablespoons fresh lemon juice
pinch of sea salt
Whisk together in small bowl until smooth and pour generously over the falafel balls.
Serves 2-4
Persimmon Chia Pudding
One of the joys of eating raw foods: desserts like this are so nutritious you can eat them as a main meal
Ingredients:
1 and ½ cups fresh nut milk (simply blend 1 cup pre-soaked nuts with 3 cups water and strain out the nuts, saving the pulp for another recipe later. This will leave you with 3 cups of fresh nut milk.)
¼ cup chia seeds.
Whisk together 1 ½ cups of the nut milk and chia seeds and let sit for an hour. Then put into blender along with:
2 very ripe, peeled persimmons
1 banana
1 ripe avocado, peeled and pitted
2 medium collard leaves, stems removed
Blend until smooth and creamy. Pour into two serving bowls and garnish with some more chopped persimmon and a dusting of cinnamon.
Serves 2
Pom-Citrus Go-Go Juice
Ingredients:
1 pomegranate, peeled and halved
1 red apple, cored
2 celery stalks
2 medium cucumbers
1 small beetroot
Run everything through a juicer and pour into two tall glasses. Drink immediately.
Serves 2
December Potpourri Salad
Gorgeous colors and seasonal flavors combine wonderfully in this salad that can be dressed with any of your favorite raw dressings
Ingredients:
4 cups mixed baby greens (if they include arugula, even better!)
1 small fennel bulb, peeled and sliced thinly
1 apple, cored and sliced thinly
Seeds from one pomegranate
1 tangerine or mandarin orange, peeled and divided into sections
1 cup pistachios, soaked, rinsed and chopped
Toss all ingredients in a large salad bowl and arrange attractively on two salad plates, garnishing with extra nuts and a sprinkle of pomegranate seeds. Dress with a grapefruit and honey dressing or favorite dressing of your choice.
Serves 2