March 2012 Seasonal Raw Food Recipes
March 3rd, 2012
March 2012 Seasonal Raw Food Recipes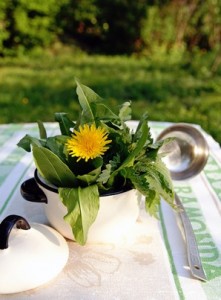 At first glance, March's seasonal produce might not stir up a lot of excitement or visions of raw potlucks dancing in your head, but wait until you taste some of the refreshing creations you can make with these seemingly mundane fruits and vegetables including dandelion greens, asparagus, grapefruit and oranges, fresh peas and California strawberries. Not only will you be dancing, but your tastebuds will be singing!
Strawberry Grapefruit Slurry
Ingredients:
2 cups of fresh whole strawberries
1 grapefruit, peeled and seeded
2 ripe bananas
½ head of Romaine lettuce, roughly chopped
Set aside a few strawberries and grapefruit slices in a bowl and blend all other ingredients until smooth. Add the remaining fruit pieces and pulse gently until they are blended in, but still slightly chunky. Pour into two tall smoothie glasses and enjoy!
Serves 2
Snappy Spring Toss
Ingredients:
2 cups fresh snow peas
2 cups of jicama, peeled and cut into matchsticks
2 cups of orange wedges, peeled and divided
½ cup of chopped raw soaked pecans
2 Tablespoons of raw honey
juice of one orange
pinch of celtic sea salt, optional
In a serving bowl, mix the honey, orange juice and salt together with a fork. Add remaining ingredients and toss thoroughly until well coated with the resulting dressing. Let it sit to marinade for at least half an hour.
Serves 2
Love Your Liver Salad
Ingredients:
1 bunch of dandelion greens, stems removed
1 handful of mixed baby greens
2 red apples, cored and sliced thinly
¼ cup of scallions, roughly chopped
1/2 avocado, peeled and cubed
¼ cup tahini
juice of 2 fresh navel oranges
1 inch of peeled and grated ginger root
1 teaspoon of freshly ground cinnamon
pinch of celtic sea salt
1 Tablespoon of fresh parsley, chopped
Place the dandelion greens, baby greens, apples, scallions and avocado in a large salad bowl. Blend the remaining ingredients in a blender and pour over the salad. Toss gently to coat entire salad with the dressing and let sit for at least half an hour before serving. Garnish with dandelion flowers, if available, and sprinkles of dulse flakes.
Serves 2
Creamy Asparagus Soup
Ingredients:
1 cup coconut water
1/2 avocado
1 small bunch of fresh asparagus, ends trimmed
1 stalk of celery, chopped
½ cup raw pine nuts, soaked
Juice of half a lemon
handful of fresh dill
Pinch of sea salt
Blend all ingredients in blender until smooth. Pour into two soup bowls and garnish with chives, extra chopped asparagus or fresh corn, if you live where it's available.
Serves 2