Raw Food Recipes for July 2011
July 10th, 2011
Raw Food Recipes for July 2011
It's July: That wonderful summer month when celebrations really start to get underway and there seems to be fresh produce everywhere you look.  Fireworks, picnics, and fresh raw food go hand in hand. Some of the seasonal produce making its appearance on the scene this month include plums, melons, corn, cucumbers and tomatoes.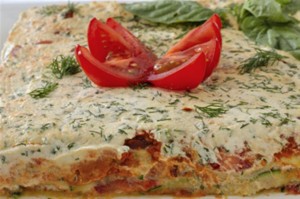 Luxurious Lasagna
I am usually one for whipping up quick simple dishes, but whenever my son, Nick, visits I always ask him to make this amazing dish from my book Beautiful on Raw-UnCooked Creations. This dish has such a rich flavor, you will definitely remember it for a long time to come. Not to be indulged in too often!
Basil Macadamia "Ricotta":
2 cups macadamia cheese (cheese recipe available here)
3 tablespoons lemon juice
2 cups packed basil leaves
sea salt to taste
Place all ingredients in a food processor and pulse a few times until thoroughly combined. Add a little water, as needed, and pulse until the mixture becomes fluffy. Place in a bowl, cover and set aside.
Tomato Sauce:
2 cups sun-dried tomatoes, soaked for an hour and drained
1 medium ripe tomato, chopped
1?2 small onion, diced
2 tablespoons lemon juice
1 tablespoon raw honey
6 tablespoons olive oil
sea salt to taste
pinch of Cayenne pepper
Place all ingredients in a blender or Vita-Mix, and blend until smooth. Place the mixture in a bowl, cover and set aside.
Lasagna:
3 medium zucchini, ends trimmed
2 medium ripe tomatoes
3 tablespoons fresh parsley, finely chopped
3 tablespoons fresh oregano, finely chopped
whole basil leaves to garnish
Shave zucchini lengthwise into very thin slices (best to use a mandolin slicer). Cut tomatoes in half, and then into thin slices. Line the bottom of a 9x13 inch baking dish with two layers of zucchini slices. Spread one third of the tomato sauce over it, and then top with one third of the ricotta. Cover with one third of the tomato slices. Sprinkle with oregano and parsley, using one tablespoon of each. Add another two layers of zucchini and repeat the layers of tomato sauce, ricotta, tomato slices, herbs and so on until you run out.  Garnish with the whole basil leaves.
Serves 4
Simple Summer Sipper
Provided by Fran Ricci and sent in by Linda M. Many thanks for your delicious contribution!
Ingredients:
1 Cucumber
1 stalk Celery
¼ lemon with rind
1 Apple
1 Carrot
Romaine Lettuce
Juice all ingredients and drink immediately.
Serves 1
Gazpacho-rama
Gazpacho is not only the official soup of summer, but you can vary it a thousand ways and it always seems to turn out good. Here is one version to get you addicted... oops, I mean 'started'.
Ingredients:
2 cups any basic vegetable juice (you can even make extra Simple Summer Sipper-above-in the morning and use it for making gazpacho for lunch)
3 ripe tomatoes, roughly chopped
1 medium cucumber, quartered
1 red bell pepper, seeded and quartered
1 small zucchini, diced
2 scallions, minced
1 small handful of fresh basil
1 avocado, halved
juice of ½ lemon
pinch of sea salt and cumin
1 ear of corn, kernels removed
Pulse all ingredients except cilantro and corn in a food processor until still slightly chunky. Pour into two soup bowls and garnish with chopped cilantro and fresh corn shaved right off the cob. You can also add some extra chopped avocado.
Serves 2
Plum Crazy Smoothie
Green Smoothies and Puddings are never boring... you get to change them up every month depending on what's in season, ensuring a wide variety of nutrients daily in one of the most enjoyable ways ever invented.
Ingredients:
4 ripe black plums, pits removed
2 cups cubed watermelon
1 cup fresh figs
1 ripe banana
3 leaves of Lacinato Kale or Collard Greens
Blend all ingredients in a Vita-Mix or other high powered blender, adding more melon if you want it thinner, more bananas if you want it thicker. Pour into two tall, elegant chilled glasses and garnish with mint leaves.
Serves 2-4
Betsy Ross Dessert
You know we can't get by without a red, white and blue potluck dish in July. Declare your independence from junk food desserts forever!
Ingredients:
4 cups fresh strawberries
4 cups fresh blueberries
2 young Thai coconut, meat and water (save ½ cup of the water to soak chia seeds in)
2 bananas
2 Tablespoons raw tahini
6 Tablespoons raw honey
2 Tablespoons chia seeds
fresh pansies to garnish
Soak chia seeds overnight in ½ cup coconut water. To assemble, blend 1 Tablespoon of chia mixture and 2 Tablespoons raw honey with strawberries, transfer to a bowl and repeat with the blueberries. Finally, blend coconut meat and remaining water with banana, tahini and 2 Tablespoons raw honey. Carefully pour a layer of each of the mixtures into tall glasses starting with red, then white, then blue, or use a glass serving bowl and make one layer of each color for a parfait style dessert. Decorate the top with fresh pansies for a festive burst of color. Grab the bowl and sneak away while everyone else is watching the fireworks.
Serves 3