Raw Food Recipes for September 2011
September 6th, 2011
Raw Food Recipes for September 2011
September is a haven for raw food lovers. Fresh, ripe and raw produce bursting with flavor, color and nutrition is to be found practically everywhere.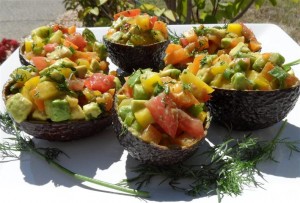 Avocado Boats If you are transitioning to the raw food diet, avocado is likely a staple in your diet. You can prepare this simple, yet delicious and beautiful dish for any crowd, composed of raw foodists or otherwise. Ingredients: 4 avocados 2 yellow bell peppers 1 orange/red bell pepper 3-4 medium tomatoes 3 green onions 1 bunch of fresh dill 3 tablespoons sunflower oil, optional Sea salt to taste, optional Cut the avocado in half, lengthwise (see picture). With a spoon, scoop out the avocado pulp. Do not discard the resulting 2 "boats" from each avocado. Chop the avocado pulp, bell peppers and tomatoes. Finely dice the green onions and dill. Stir everything together with the oil and add sea salt if needed. Using a spoon fill each "boat" and place on a serving plate. Enjoy! Serves 2-4
Tangy Olive Treats This very versatile dish can be used as a dip, spread or filling. It packs a powerful punch, and is a treat for special occasions. Ingredients: 1 cup raw pitted black olives, rinsed 1 cup walnuts, soaked overnight and rinsed 1 clove garlic juice of ½ lemon ¼ cup fresh basil pinch of fresh thyme pinch of sea salt, optional Belgian Endive leaves Pulse all ingredients in a food processor until mealy and well blended. Transfer to a serving bowl and adjust seasonings to taste. Spoon into the Endive leaves and arrange on a platter. You could also use this dish as a dip for crudités or just place a few dollops on top of your salad. Serves 4 Creative Corn Salsa This fresh salsa makes good use of the abundance of tomatoes and corn in season. You can enjoy it as a hearty salsa or try blending it a little more for a yummy soup garnished with more fresh corn and spices. Ingredients: 2 ears of fresh, raw corn 2 beefsteak (or any large heirloom if available) tomatoes, quartered 1 handful of cilantro 1 small zucchini, chopped juice of 1 lime ½ sweet white onion, chopped ½ green pepper, chopped 2 avocados, peeled and pitted 1 Tablespoon raw honey 1 seeded jalapeno, optional pinch of sea salt, chili powder and cumin Scrape corn from the cobs with a sharp knife and place in a food processor with the remaining ingredients. Pulse gently until well incorporated. Serves 2-4 Carrot and Rhubarb Salad If your only experience with rhubarb has been in a baked pie, it's high time to try it raw! Rhubarb contains cancer-fighting polyphenols and helps lower cholesterol levels as well. It's an excellent non-dairy source of calcium, and a high source of potassium. Moreover it contains magnesium, iron, manganese, selenium, copper and phosphorus – all minerals that aid with bone health, red blood cell function and nervous system health. Salad Ingredients: 2-4 Rhubarb stalks (not the leaves!), finely chopped 3-4 carrots, grated 1 onion, finely chopped 2 Tablespoons fresh dill, finely chopped 4 Tablespoons Avocado Dressing (see below) sea salt to taste Stir together the vegetables and place in a salad bowl. Sprinkle fresh dill on top and pour on the Avocado Dressing. Note: You may find rhubarb easier to chop and eat if you peel off the strings from the stems first. Avocado Dressing Ingredients: 1 Avocado 1 Tablespoon lemon juice 1 Tablespoon honey 1 cup nuts, soaked a few hours and rinsed (macadamia, cashew, or pine nuts all work well) 1 Tablespoon olive oil, optional Salt and pepper to taste, optional Combine all ingredients in a blender and blend until you reach a smooth consistency.