Transitional Raw Food Recipes (April 2012)
April 7th, 2012
Transitional Raw Food Recipes (April 2012)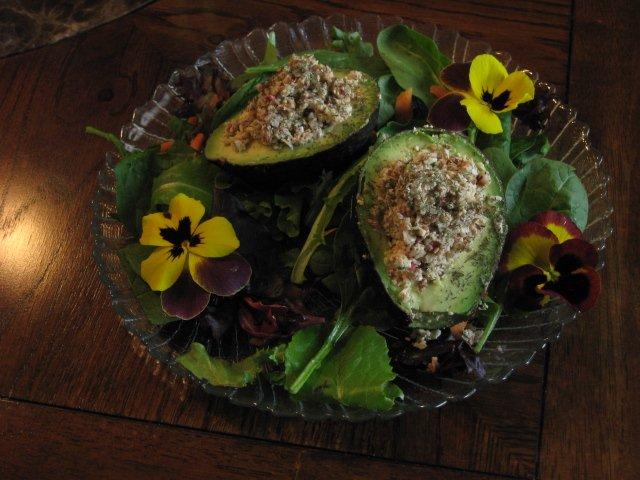 No matter where you live, April should be bringing you a new batch of delicious raw fruits and vegetables to enjoy on your raw food journey. Around here, we will be feasting on juices, salads and creative raw dishes featuring papaya, watercress, strawberries, limes, arugula, beets, spinach and parsley. The possibilities are endless, but here are a few recipes to whet your appetite.
Hearty Stuffed Avocados (by Kelli Haines)
It's great for an Easter celebration feast.
Ingredients:
1 cup raw pistachios, soaked
½ cup raw pecans, soaked
1 cup diced celery
1 red pepper, diced
2 scallions, chopped
1 Tablespoon fresh dill (or 1 tsp. dried)
2 Tablespoons fresh lemon juice
pinch of celtic sea salt, optional
3 avocados, halved and pitted but skin intact
Pulse all ingredients in a food processor until still slightly chunky and fill avocado halves with the mixture. Arrange on a platter of greens and sprinkle with curry powder and dried dill, if desired. Use any leftover filling for nori wraps.
Serves 6
Queen's Juice
This exhilarating green juice is hydrating, alkalizing and refreshing. Queen's Juice: It's what's for breakfast.
Ingredients:
1 lime, peeled
1 bunch of fresh parsley
2 apples, any variety
2 stalks of celery
2 handfuls of spinach
1 small beetroot
Run everything through a juicer and pour into a tall glass. Drink immediately.
Serves 1 generously
Pond Pudding
When you were a child, did you ever seek out frog eggs in the ponds and ditches and try to hatch them at home? This delicious spring pudding is bound to remind you of your childhood adventures.
Ingredients:
2 handfuls of fresh spinach
1 ripe papaya, peeled and seeded
1 cup fresh chopped pineapple
1 Tablespoon of raw honey
dash of vanilla, optional
¼ cup black chia seeds (soaked in 1 cup water or coconut water overnight)
Blend everything but the soaked chia seeds in a blender. Pour into a bowl and stir in the chia until thoroughly incorporated. Dust with cinnamon and eat with a spoon.
Serves 1
Figging Around Salad
You can use this salad as a foundation to build your own creations. Or eat it just the way it is for delicious simplicity.
Ingredients:
2 cups fresh arugula, roughly chopped
2 cups romaine hearts, roughly chopped
2 cups fresh figs, roughly chopped
½ cup chopped pistachios
Toss all ingredients in a bowl and drizzle with your favorite raw citrus dressing, such as orange juice and honey, with a pinch of celtic sea salt if desired.
Serves 2
Parfait
A rich, creamy parfait that tastes and looks decadent but is very easy to make... and eat.
2 and ½ cups raw cashews, soaked
1 cup fresh nut milk, any flavor
¼ cup raw honey or natural sweetener of your choice
2 cups fresh ripe strawberries, sliced
½ cup ground flaxseed
fresh mint leaves for garnish
Blend cashews with nut milk and sweetener until smooth. Put a couple spoonfuls in the bottom of a dessert cup and then layer sliced strawberries, followed by ground flax seed. Repeat the layers once or twice, depending on the size of your cup and garnish with strawberries and mint leaf.
Serves 2